Bentley S Mercury : joyful paintcoats on rigorous cast
I remember I bought my first Bentley Mercury from a forum member five years ago. It was a excellent condition model with its excellent condition box. A great deal that had pleased both the seller and I. It wasn't a real discovery for me as I already had collected two Rolls-Royce some months before. I just knew that I wouldn't be disappointed.
I just still ask myself today why I didn't write an article about that lovely model before. Because it is truly charming, as can be Dinky-Toys for instance. I'm gonna try to convice you now.
Let's talk about the car first. But to discuss about it, we have to know when the model was launched. According to different sources, it's in fact hard to tell when it really was launched. The best document is a 1959-1960 Mercury catalogue then. But showing both the Rolls-Royce and Bentley could we be sure that models really have been launched one of these years ? Remember that sometimes famous toys brands never produced models that have been illustrated in their catalogues, and sometimes some have been delayed. Does it finally really matter ? Yes ! The Bentley S1 was produced from 1955 to 1959 and then the Bentley S2 from 1959 to 1963. So we just have to admit it's a… Bentley S. We just can't open the bonnet to verify if the engine is an inline 6 or V8 cylinders one. That's only what we could see as the difference for such a small toy. But no opening parts, no difference to be seen.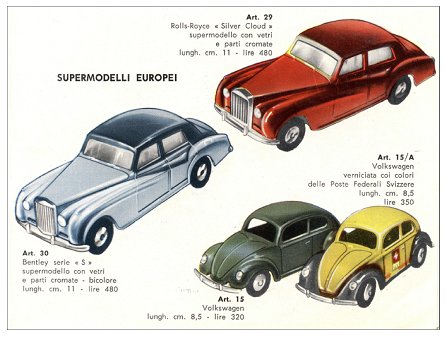 Because it is small. 1/50 to be approximately exact ! Depending on sources or even the way people measures the model from length or wheelbase, some could say it's 1/51 or 1/49. But we can admit that it's 1/50 we'll later see why.
What we immediately can see is that the lines are faithful and the model overview is perfect. Wheels are somewhat too narrow, but they are the right diameter and they make the car look so right that this saloon seems to be comfortable. But it just seems to be. It has no suspension, and even no seats to rest in. No driving wheel neither. Features are just consisting of separate bumpers and grille, and windows. Exactly as the early Corgi-Toys were fitted, and almost every Dinky-Toys at this time (the first Dinky equipped with suspension is the Rolls-Royce Silver Wraith in February 1959). Regarding to grille and bumpers, we can see that the catalogue announced « parti cromate ». That was luxury ! (The first Dinky-Toys that had chrome plated parts is th Silver Wraith too !). For instance it costed 50% more than the same brand VW Beetle that had no windows nor chromed parts for instance. But just remember, if we admit that the Mercury was introduced in 1959, that a major toys maker such as Dinky-Toys was just offering its first model with suspension and chromes. So this italian toy was not avant-gardist but just in its time.
I'm not collecting with the same rigor some collectors make with. So I will study this model with some…some poetry? (I must confess that it would hurt me to talk about laxness…).
I already said how the lines have been well captured, and how the car is globally very faithful. Door and boot handles are there and

almost correctly sized, front air intakes are neat and even screen wipers are moulded with the body.
As the Solido Silver Cloud, one thing here is a little damage. Easier to mould I presume, the doors lines are relief and not hollow… It's really a pity as both the models are besides very nice. Front and rear lights are silver and red painted. Some have front side indicators silver painted too, but not always, as the wipers are. I must now talk about grille and bumpers. The catalogue says « parti cromate », but the copies with chrome plated parts are scarce. In fact I've got eight Bentley and only one has this feature type. And only one RR from six I got. All the other ones have grille and bumpers that are silver painted. I must say they have silver painted grille, bumpers AND base ! The base and both the bumpers consist of a single mazak part.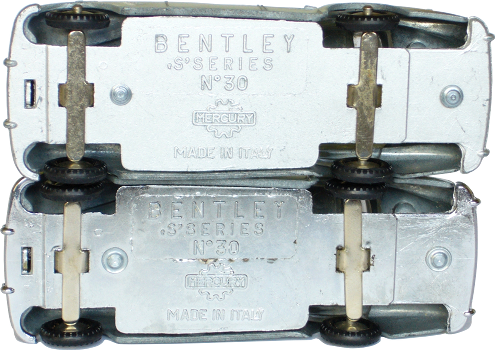 Another thing to notice is the way wheels axles are fixed up. In fact the base just has semi-holes that are open in the lower part. So to make the axle stay in what is just a notch Mercury used some (chromed steel made !) strips. These ones were clearly fixed to the base before this one was riveted to the body. The only reason that can explain such a complicated process, is that axles could be ready, with wheels in place, before to be mounted on the base. On Lesney, Dinky or Corgi models the wheels axles should be introduced into the base wholes after one wheel only has been put on on the axis. Then the second wheel could be put on on the other axis extremity and the axle riveted then. A picture is worth many of my explanations. So let's see.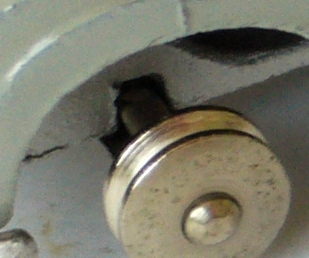 Looking at the base make us see how the rivets are. And I never saw another kind of rivets on this Bentley. So are the hubs. Always the same. They're magnificent. Probably made of chromed steel, they often look like new. And so do the tyres ! Always round and smooth ! We're far away from Corgi or Dinky-Toys rubbers !
There probably are many colour schemes that I don't know. And I will be happy to discover these beautiful colour combinations that are still unknown to me. Talking about paint coats, I must say that sometimes Mercury paintjobs weren't very professional. Too thin or too badly applied ones (I got a mint condition orange peel model, yes !) can frequently be seen what deserves such a beautiful cast. We even observe that a colour has overflowed on the other one. But what is sure is that the Bentley S are always two tone painted. Another curiosity is the way the two different colours were applied. If I'm not wrong, and Kevin said I'm not, thank to him, the body was first entirely painted with the upper tint ! And then the whole lower body part with the second tint. I think it was easier to do such a mask and not the opposite one.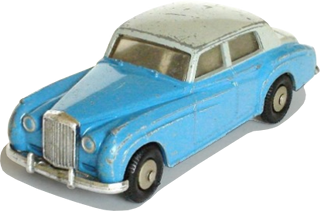 I said that the Bentley S was always two tone painted. That's why the box illustration shows a dual paint coat car, in agreement with the catalogue saying « bicolore » first, and my observations then. And the Rolls-Royce Silver Cloud box shows a plain colour as the model car will ever be. Two box types are known. What seems to be the first one has an innocent drawing, that just allows us to recognize the famous british car. But though the end flaps shows « Bentley » the car grille is a Rolls-Royce one ! The second type will show the correct grille fitted into a magnificent car drawing. What a difference it makes, even if both background colours and dimensions remain the same. Now, if you want to know all production figures, all available colours and so on, every little cast detail or change, you know my website isn't the place to find such data. My eye still is a child one. My enthusiasm is as the Mercury are : latin, muddled but brightly coloured.

I can't end my speech without tell you one more time about the scale.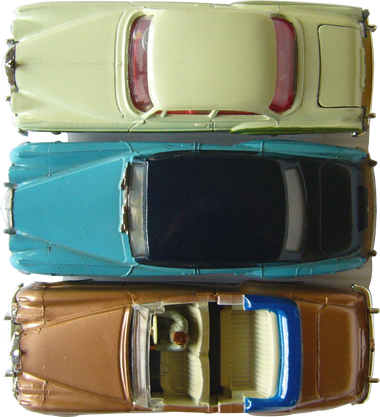 Because I said I will. If I can't assure you it's a strictly 1/50 scaled model, I can however say its scale is exactly the same than the Corgi-Toys Bentley S (#224) on one side, and than another Bentley S, the Dinky-Toys one (#194), in the other hand. The proof with these pictures. So nor Corgi-Toys and Dinky-Toys haven't produced the standard saloon. But why should they have done it ? Mercury did it as

good as they could have done.
To come a shorter article, because of many common specificities, that will be tell you about the twin sister : The Rolls-Royce Silver Cloud. I think it will be worth to be read because of comparison of the two models and some new information that concerns both the models.


Acknowledgments to :
– Gerrit for the superb grey Bentley « parti cromate » equipped.
– Kevin for the catalogue and the scarce blue over grey copy pictures.