One of the most successful Dinky-Toys touring car : Rolls-Royce Silver Wraith.
This car, that is a model car world's great classic, is one of my favourite too. As a Rolls-Royce, and as a model too.
Here it is in its unique two tone grey paintwork. You can see below three boxes variations for the Great-Britain release, and the French one.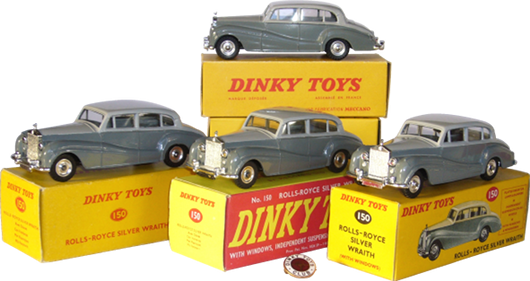 Launched in February 1959, it is numbered 150 in the GB Dinky-Toys range while the French copies are known as 551. It really has been assembled in France and the base, as you will see below is different in text. This wasn't an export product for French market.
Let's begin with card. Yes, Dinky-Toys enthusiasts well know early packaging used to supply retailers. An almost ever tan, grey or yellow card box with inside packing for six pieces most often. Individual box advent didn't kill these large boxes use. They still were supplied usually by six, without inside packing that wasn't useful no more.

Seeing the picture above could make think six boxes can't take place inside. But they truly do.
I thought that was the only thing I could tell about that model car. That is to know differents boxes and baseplates.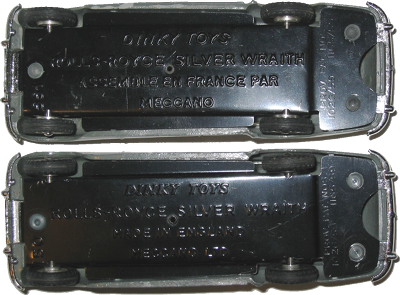 And I was disappointed not to be able to say more about such a lovely model to me. So I decided to report (closely) related things.
As almost all new Dinky-Toys models of this era, it is announced by a full colour page advert at the Meccano magazine's back of its launch's month. In February 1959 then, this nice limousine is illustrated in a standing background in a no less standing livery. A so beautiful combination that it will be one of the rare Dinky-Toys to only wear one coat. Whatever it has been In France or England produced.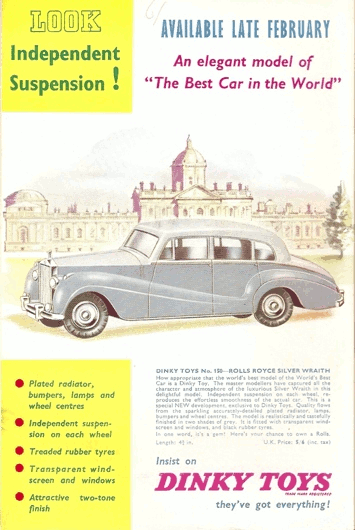 Next month this model will even have a new entire dedicated page in the same magazine. An advert praising again its suspension, with an explicit scheme for the younger ones who couldn't yet read.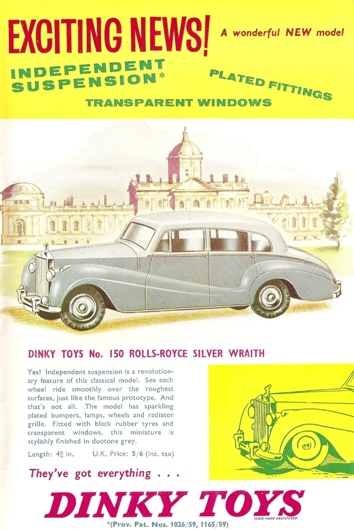 Prometteur For french boys some 1959 catalogues had an additional quadruple central page announcing news, one showing and promising the Rolls-Royce in October. The model was so promising that all stock were sold in two months only. And it's no surprise because it has a great "first" with its independent suspension but also with its plated parts that I suppose to have been another first.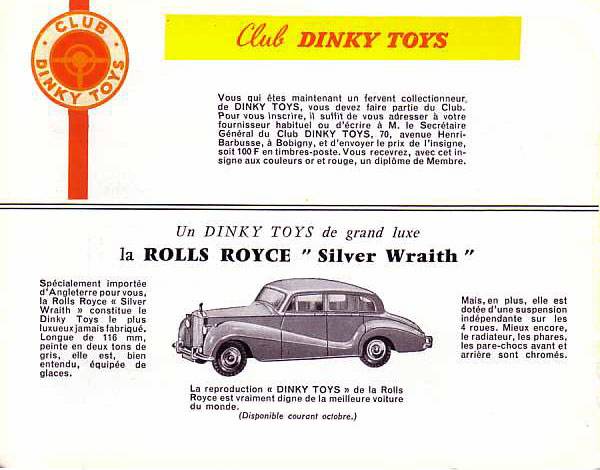 Its scale, far from 1/43 beeing 1/48 in fact, makes it an almost perfect sister for the contemporary Quiralu Silver Cloud, the later and other Silver Cloud from Lone-Star. Hmm ? Oh yes. The Dinky Phantom V too !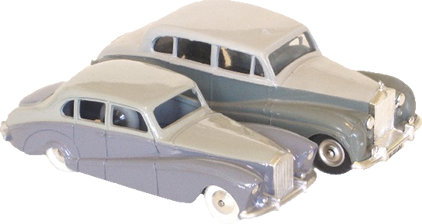 If you like to know a little more about the real car, let's go there. Everybody knows Rolls-Royce. For those who knows less about this and could have discovered the Silver Wraith through some picture or even through a model car, the Dinky-Toys one for instance, I must to say that almost 1,900 Silver Wraith were produced. And you have probably seen different Silver Wraith Model cars by dozens. It isn't surprising as this car was produced as a separate chassis and that many coachbuilders offered many bodies for them whatever they were short or long wheelbase.
It explains that there is not THE Silver Wraith, but many Silver Wraiths. Bodied by H.J. Mulliner,  James-Young, Hooper, Chapron or even by Vignale and of course Park-Ward who is the one that bodied the Dinky-Toys. Ooops ! The one that bodied the car that Dinky-Toys has scaled. Not only can we say that it's a park-ward creation but more we can find its original drawing. We just have to leave aside if there's or not a chauffeur separation, and the way the spare wheel is in the boot. So let's admit that Dinky used the most recent Park-Ward 's design without semi chauffeur division that is to say the Number 702.
It's a popular design or rather said demanded one, and many Silver Wraith such bodied have been produced. So widely that the car you can see in "Champion" sparks plugs advert background is the one.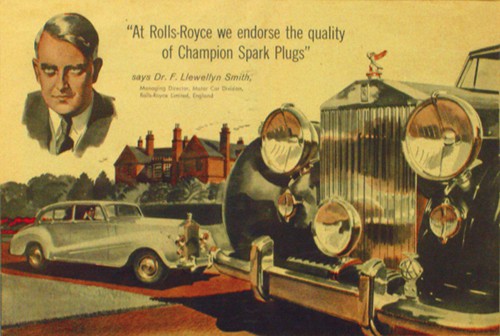 To end I incidentally and recently found a picture I took some years ago. It's the 1:1 Dinky-Toys !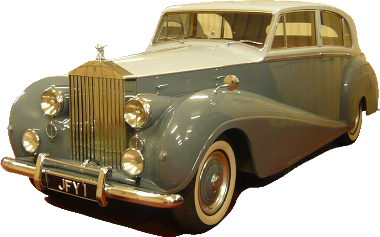 Want to leave a note? Just fill in the form below.