Wanna get your driving license ? Corgi-Toys can help !
This page will be somewhat short, because the person, who is going tell you about this model car is just a Corgi-Toys enthusiast and not an expert.
The enthusiastic side of this toy is in its shrewd steering system. You probably guessed seeing first the pictures, that the huge size « Corgi Motor School » roof sign steers the wheels depending on which side you turn it. For me, there are other very good things in this model.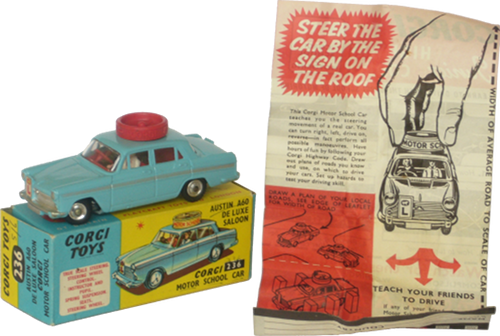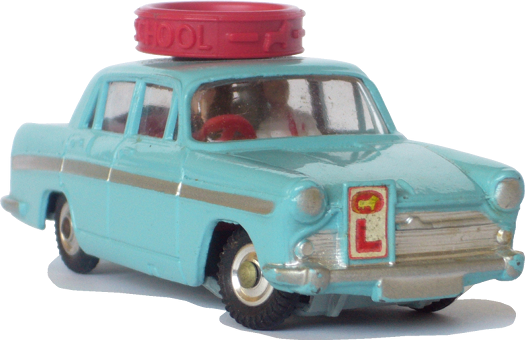 Of course it has what all contemporary models do, seats, steering wheel, suspension, spun hubs and windows. It has two « L » signs, one on the front and the other on the back, and has we are talking about learning; there is one instructor and a woman pupil!!! I won't tell you again about characters in vehicles, but that's simply living! Are there any bad points with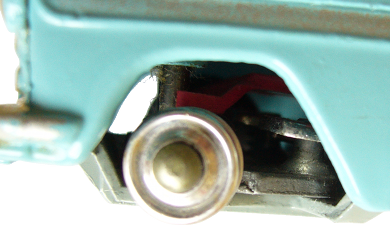 this model then? I would say only one. But a somewhat big one! Or may I say a small one?
This one is wheel's size. Too small hub diameters are the problem. Turning circle is terrific, yes! But did it need such ridiculous wheels? It spoils the car's lines, making it appear as long as a limousine. It's a big car to learn to drive in… that has to be pointed out, but I think it's more due to the mechanism near the front wheel axle than to the turning circle that needs tiny hubs. Or perhaps it's due to both these points. Paul says: « These too small wheels always made me wonder, I think this was done to allow the wheel to have more room to turn.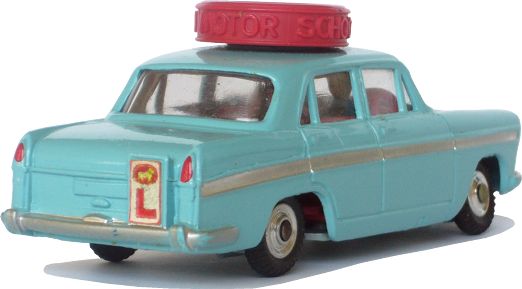 Thus, the more they can turn the more the play value is improved. It is with the left hand drive car that I prepared for more than ten years for my driving license exam. It's now full of paint nicks but still in my collection« .
Let's get back to this Austin and its place in Corgi-Toys range. Many touring vehicles have been utilized, for police cars or others adaptations, but this Austin A60 is only listed in its driving school version. It seems surprising, but thinking a little bit on that, one can imagine that making a touring version from this model would have been a hard job. A tedious job on the base plate to fit a simple wheel axle. Also the interior and roof to remove all the mechanisms. Even the cast would have to be altered to remove the « L » panel. Perhaps this popular saloon wasn't sexy enough to be sold by millions…
However Corgi-Toys had many export markets, particularly in North-America, Belgium and Italy. They had the (good) idea to produce the same car but with left hand drive, the cast remaining the same. The box changed, just showing « L.H. Drive » on illustrated sides, as well as the steering wheel. The instructor and pupil will change sides. So discreet the changes they might not have been seen. That's why Corgi gave it a new number and another colour, Blue, Dark Blue. Cool!
I can give you these figures about both Austin A60 variations, produced from June 1964 to 1968 at 1/47 scale.
| | | | |
| --- | --- | --- | --- |
| | | | |
| Right Hand Drive | 236 | Sky blue | 617 000 ex. |
| Left Hand Drive | 255 | Blue | 364 000 ex. |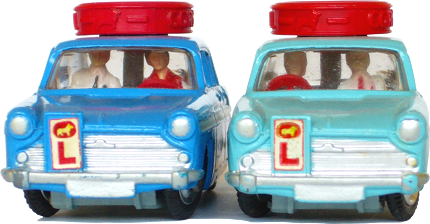 Of course the export version is harder to find but is worth the price. You have a choice of the first or second model, for a good price if you don't absolutely want the box. The box is certainly more expensive than the car itself.
Forget all about these contingences, this model car is one of those that a boy can remember for a long time as it has a high play value. Among the lucky ones that had this toy, but had a lack of imagination, a small leaflet was provided to explain how to steer the car, also it offered some ideas on how to use it, overtaking other cars, turning left or right and reverse parking.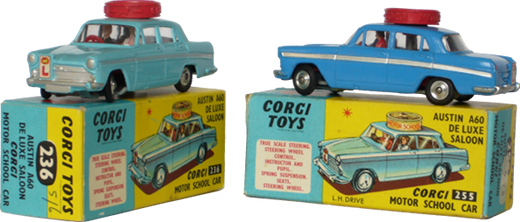 Jean Luc « Que de souvenirs que ce modèle
How many memories of that model I have! This car was one of my favourites when I was a child. (I still have it.) Due to its steering system we could « DRIVE » it through the roads we drew with chalk on the drop down balcony of my parent's house. »
I never had either one of these models until a few years ago, but I looked at them with childlike eyes. Though I don't believe in magic, I didn't see the central pillar till I saw the pictures I took to illustrate this page.