Corgi-Toys Karrier Bantam. Smith's mobile shop & canteen. These numbers 407 & 471 are so close !
I live in France where I was born. Though I have travelled through almost the whole of Europe and many continents, the only part of the British Island I have visited is Jersey. You may think there were few opportunities that I would know the Karrier Bantams utilities, and you would be right. I didn't even hear about it before taking a great interest in Corgi-Toys. Why looking for this models brand made me buy a Smith's Karrier mobile shop? I can't say. I just remember I bought my first Smith's Karrier Mobile Canteen numbered 471 in Corgi-Toys range, in summer 2011, a near mint copy, then soon after that a mint and boxed one. As you'll see just below, I spent some time making little scenes using various characters.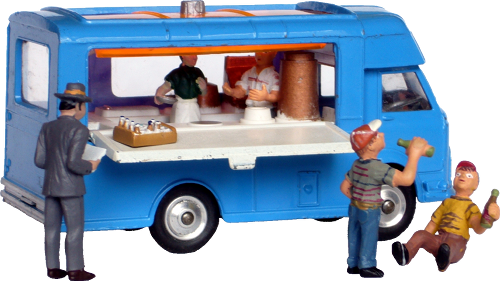 Doing this I had the same pleasure a child would have doing the same thing. I was just taking pictures instead of making my characters speaking or telling a story… It immediately tempted me to find a butcher or mobile shop from the same maker. Having recently found one, I enjoyed sharing my find with some forum's members, and what they told me about the toy,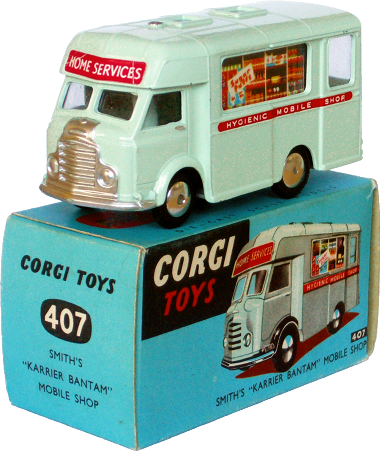 made me write more than the hundred words I use to present a model almost every day on my site.
Discussing with other collectors is always enriching, not only for they teach me many things, but because they make me curious to search for further information. I'm not going to tell you the Commer Karrier Bantam story. Many specialists or well documented sites will do it far better that I could. Just let me tell you how the Commercial Motor review presented this light truck in spring 1955.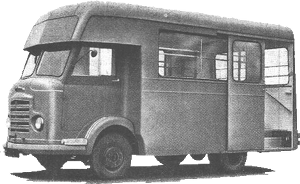 This professional magazine said that :
Jon Bros. coachbuilder started a new venture in mobile shops construction. He commenced with a mobile butcher's shop on a Karrier Bantam chassis and a fried fish and chip shop has also been constructed. The butcher's shop had a customer compartment which ran across the vehicle's end and was 6 ft, 11 in long and 2ft 5 ½ in wide. The serving counter was cut away near the three entry steps by about 4 in. to permit easy access.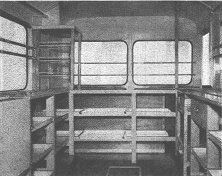 A step light was incorporated with the rear near-side tail lamp. A glass showcase stood on the serving counter, and rails along both sides enabled joints of meat to be displayed through the side windows. Display counters, faced with Formica, also facilitated the display of meat through these windows. A butcher's chopping block was carried on the near side and an icebox was situated behind the driving compartment on the off side. Seventeen aluminium trays were fitted into racks under the display counters and a drawer was provided for knives and choppers. When draining the icebox, the water ran to waste outside the vehicle and waste water from a hand washbasin was integral with the 2 ½ gallon water heater made by Smith Thermowell Co., Ltd.
The mobile fish and chip shop, the first of an order of 12 placed by Mr. L. P. Hine, of Susan's Road, Eastbourne, was also based on a Karrier Bantam chassis. The equipment included a two-compartment frying range, four chip bins, an icebox for fresh fish and a wash-basin. The range was heated by eight Bremith pressure-fed paraffin burners, with a total consumption of one penny worth of fuel per hour. This represented a saving of approximately 2s. per hour over a conventional coal-gas unit as used in shops.
So it's obvious that Corgi-Toys didn't produce a fancy model children could have. This Smith's mobile shop numbered 407 in Corgi-Toys range really was a model they could see in their neighbourhood.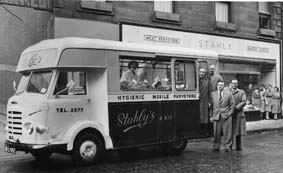 You will find some "Commercial Motor" illustrations before you probably surf the internet where you will find some neat photos. You will easily be able to imagine how you can go from the real truck to the Corgi-Toy.
A quick look at both my little toys, just made me think they had something common. But putting them side by side made me realized that they were similar in many aspects. As are many diecast toys from many brands in fact. The following pictures will show you differences in details.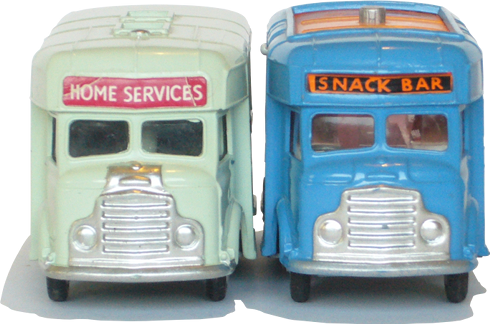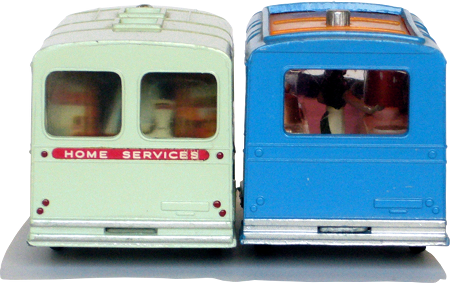 Face shot clearly shows how the paint-mask can influence the vision we have, as does the main paintwork's colour for almost every vehicle. Though the canteen seems lighter, it is due to its shaped hubs, because, as you can see, both left sides are similar. Light changes are visible in both the right and rear side. The main modifications concern the roof.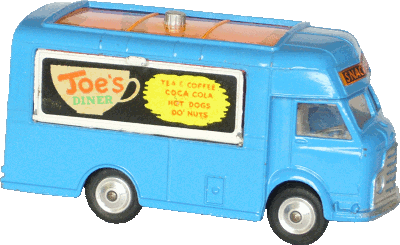 Most anecdotic is the base's update, nevertheless, they look very different! The later one canteen has more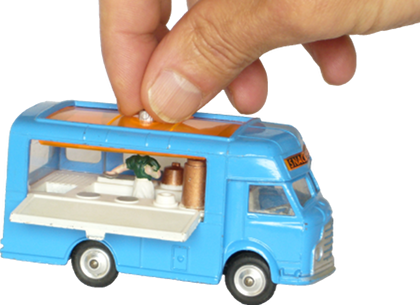 play-value for it has a hinged serving counter, a rotating chief, and glow lighting, using the famous Trans-O-Lite system. And it has of course some of the improvements made by Corgi during the seven and half years of production run. Suspension and detailed interior gives it more realism. But the earlier mobile shop has a nice inside decoration, giving the customer space in the rear compartment, as did the real ones.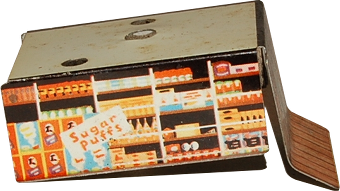 This decoration has two interesting characteristics.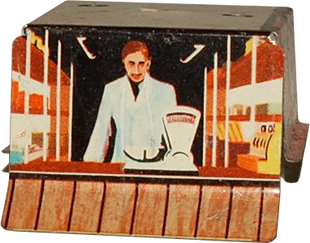 First it is printed tin made, as you could see on pictures that Jim Noble must be thanked for sharing. Take a look at the one the left side. Second now, Michael, another great collector, said that he would bet I didn't know that Quaker, the makers of Sugar puffs, took a cut of the profits and got free advertising too! He was right, I didn't know such a thing.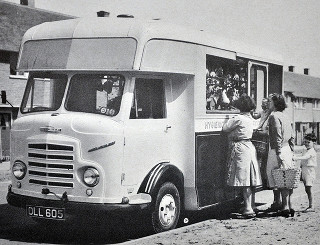 Before ending this topic, I must apologize for the picture's colours. Some are overexposed, some not. But I can assure you the two paint coats are standard, and that the models are both in full original pristine condition. And we all have to thanks George for its work again. He makes these pages so easier to read !
Do you know what? Corgi made some variations of these toys, and even offered more different mobile shops, Walls ice cream vans and a butcher's one too for instance. (My) Collection never stops! Thank you Mr Corgi!