Rolls-Royce Phantom V Dinky-Toys : three references for the same cast.
Launched in 1959, the Rolls-Royce Phantom V was the new top of the range of the brand, succeeding the Silver Wraith that was using the old straight six engine. The new Phantom V, using the brand new V8 engine still was offered as a chassis, but RR used to present it with a partner body, such as H.J. Mulliner Park-Ward. It was this coachwork design 980 that Dinky-Toys first launched in 1962. The one we're going to talk about here is the Design 2003 body from the same maker. With about 200ch. DIN, this car even in limousine coated was able to reach about 115 mph.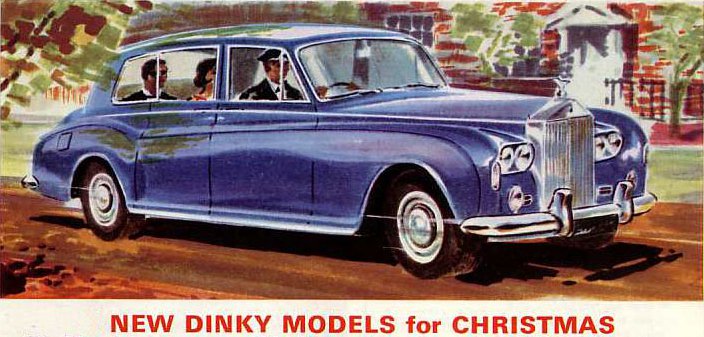 I think you have already read the page about the first Rolls-Royce Phantom V produced by Dinky-Toys. Man could have added the next one to this page if it's true that the real cars are close, just different in bodywork and minor details but model cars are, on the contrary, very different, not only because toys had evolved during the four years separating their launch, the big difference is the scale they are in. That is why the only comparison will be this picture showing the one we are going to talk about at 1/42 and its predecessor at 1/50.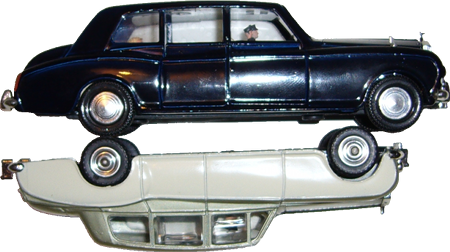 Meccano started using this scale for the majority of Dinky cars after they were acquired by Tri-ang in 1964, it was the scale used for Tri-ang's own Spot-On range which were soon deleted as Dinky became their diecast brand. The two Rolls-Royce are in fact the same length and wheelbase. First, the car appears to be somewhat round and not only because of its four headlights, or because its boot, now somewhat higher modifies the perception of its lines but undeniably it's a Rolls-Royce, and fore sure a Phantom V. What else? Everything. Let's begin showing you the opening parts. They are plenty. Four doors which rear ones are reverse-opening, just like they are on the real limousine. The bonnet can be opened like the real one do, in two opposite parts. The boot is the last opening part, seven pieces to play with. All opening parts as Dinky said and presented as "first again"!! What a marvellous toy! A forum member says « I still have the model of this Dinky that I have had from childhood (probably age 6 or 7).  It was one of my favourite Dinkys because of all the features (2 bonnets, rear opening doors…..).« It has suspension and the famous fingertip steering as well and that's not all. It has a fitted interior with door trims, a liveried chauffeur and two passengers. Headlights are jewel type, while rear lights are just painted red. This huge car has registration plates too. What would a Rolls-Royce be without chrome? Plated parts are superb.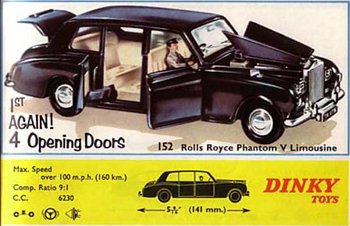 Both bumpers and grille with its flying lady are bright and faithful. Wheels hubs aren't RR specific but really fit to this sort of vehicle as they're plain and plated, adding to its realism. It rolls very well though it doesn't ugly "speedwheels". What more evident for a Rolls ? Side chromed driving mirrors mounted on the front of the wings. This surely identifies this Dinky-Toys model as an early one. Yes, plenty of details will change during this model's life.
As we will see during its time, this Phantom V will loose a lot of attributes, even its number in Dinky range. Its first reference had been 152 when it was born in January1966, and it has all these characteristics. Later it will have two other references and far less equipment !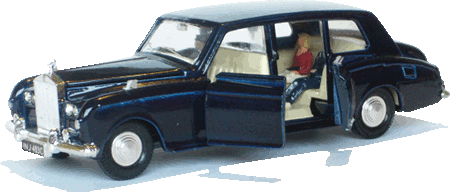 Navy blue, midnight blue, almost black blue, very dark blue… blue, blue, blue. This dinky always had been blue coated. I really think such a little variation in this colour wasn't deliberate but depended on the paint that was mixed. We clearly see that another colour is used later, some people showed it with dark green or mid blue coat, but we can't really be sure they're not fakes.
It's hard to speak about model base changes without speaking about packaging, because model bases first had holes to attach the model to the first package type, the one with a plastic plinth and card featuring road, with a rigid clear plastic case. Later no holes were needed any more, and then they disappeared. But let's put the focus on the model. The very first pieces to be abandoned were the side mirrors. They were in fact very fragile, as fragile as the grille ornament was. They're almost always broken when the car has been played with, and then holes where they had been then disappeared as well.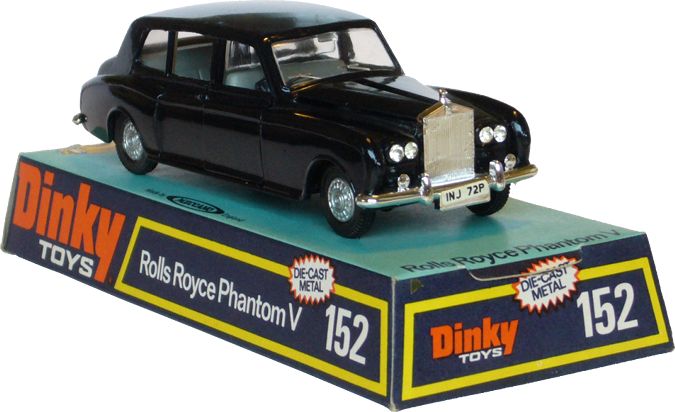 Bubble packs, as for the rest of the Dinky range, became the new packaging type. The plinth was card (3 variations known at least), and the case, a thin clear plastic shape, designed to enclose the model so close that it couldn't move and thus wouldn't be damaged. I don't know exactly when it appears, but it could be the reason why mirrors couldn't be fitted any more.
Second, doors trim was abandoned later, between 1971 and 1975. Wheels became "sun like" type. More detailed, but not appropriate for a Rolls-Royce.
I said the base has changed. Yes it did, but not only the holes disappeared but its colours, as one can see on the Silver Shadow model for instance and many more Dinky cars, has changed too. Brilliant graphite or flat black, but especially a superb light blue. An important point can be seen also. Bases weren't riveted any more but screwed.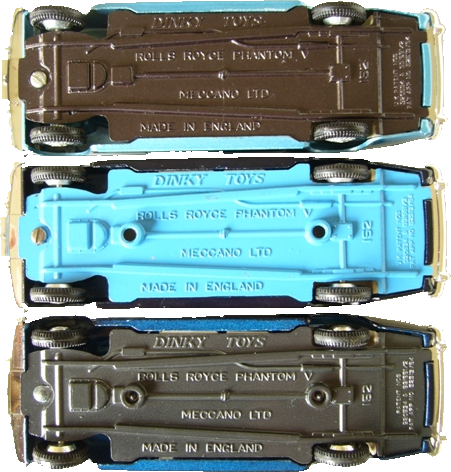 It was due to the kit launch? I don't know all about colour, holes, screwed or not combinations. On the other hand I'm sure why bases should have been screwed. We'll see that soon.
From the beginning to 1975, the Phantom V had many changes. More than changes, we can talk about what was lost, because we can list what the model had no more: Its two passengers, jewel headlights, opening rear doors, opening bonnet (I think there's no detailed engine under… ;). Is that's all? You could say yes, only five things, but these are main characteristics and enough to Dinky-Toys to give it a new number in its range : 124.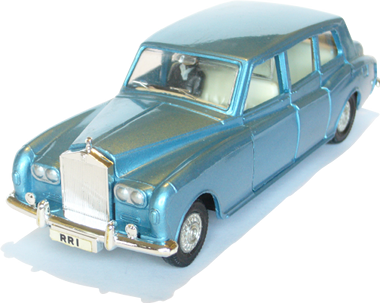 Now for a question. The Rolls-Royce became Phantom VI in 1968, but such bodied (i.e. by Mulliner Park-Ward). Except side indicator on the sides of the wings, you can't make out the difference between the two cars. So! Why didn't Dinky-Toys make profit from this new number to call its model Phantom VI?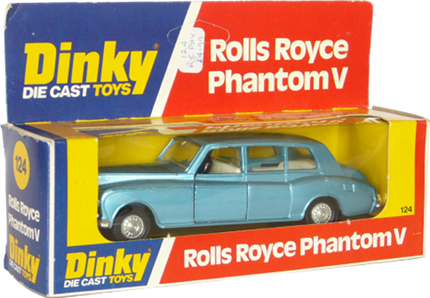 No way, new reference, new box! And the new one is quite pleasant because of its illustrated back. Unfortunately, the picture isn't specific and doesn't show this statutory automobile. We happily find this limousine drawn on the kit packages. Both show the car with its passengers and chauffeur, driving quite fast it seems.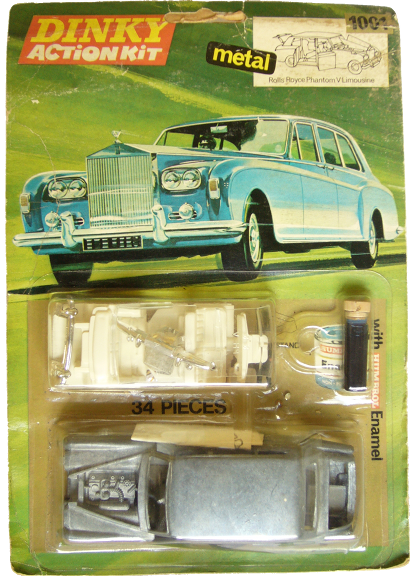 Kit form means assembling parts and fixing the base have the body. That's in my opinion the reason why bases of factory built models used the same screw system. The kit appeared in 1971,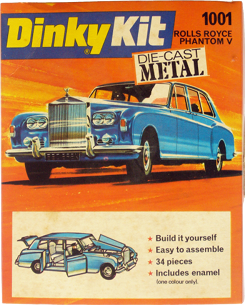 four years before number 124 was launched. The first one, in its blister pack, still has door trim. But the second packaging still showing it with its assembling notice, had an add-on saying that these parts weren't supplied anymore and I saw they weren't.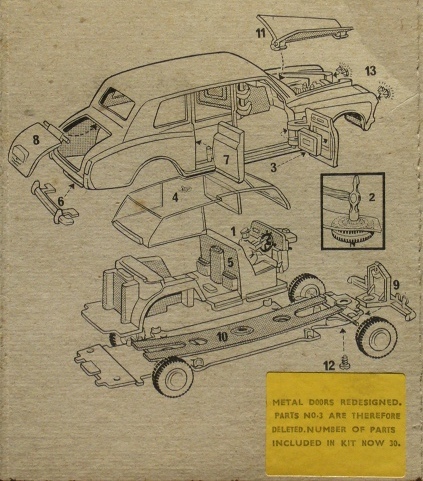 It's not my favourite Rolls-Royce model, because it has lost (as many other contemporary model cars do) its ingenuity. We are all searching / collecting old toys, but whatever it's not an accurate model today, both in lines and detail parts. This period was transitional in the miniature cars world, and soon after that model came the Japanese one by Tomica that had the same characteristics though from a different cast. This exotic cast will be used later by Yves Pebernet to create its first Landaulet that I saw at Calandre's shop in the middle 1980's. But that's another marvellous model cars story.