The Corgi-Toys is not the most beautiful Silver Shadow coupe model. But I like it !
The Silver Shadow is certainly the most known Rolls-Royce and was launched in 1965. It was a great step forward in brand's evolution. The lines are straight and the grille still retains its very first gracious "Parthenon" proportions. Moreover it is equipped with what can be called small revolutions such as it as discs breaks and a monocoque body!
So you may think that this car had not received special coachwork, not so. Many Silver Shadows remained standard saloons, but very soon after it had been launched, rather eccentric bodies or just beautiful ones came. At this time the only alternative offered by Rolls-Royce was in fact the huge Phantom V which size and price did not intend it for the same clientele. But those wanting a coupe or a convertible were enough to encourage coachbuilders (mastering monocoque body technique) to offer such cars on Silver Shadow bases, more affordable than the top of the range cars.

Rolls-Royce had its own vision of a small limousine, graceful and not too expensive; it was the Silver Shadow Long Wheel Base, which was actually a 10cm stretched saloon
Soon H. J. Mulliner/Park-Ward offered a convertible Silver-Shadow. Contrary to the rare coupe James Young produced to 50 units, preserving the saloon "ponton" style MPW reintroduced, in a bright adaptation, the superb coach line that made Silver Clouds, an elegance top.

Before 1971 we didn't speak about Corniche, but Silver Shadow coupe or convertible. Corgi-Toys were right then calling this number 273 as Silver Shadow coupé H.J. Mulliner/Park Ward because it launched its model in March 1970. This model car is interesting in many ways. In Corgi-Toys range it was among the very first cars reduced 43 times deliberately and not by a fortuitous fate. Second because of its Take-Off-Wheels & Golden Jacks system that gives it a great play value, it has all opening parts, a spare wheel in the boot and a detailed interior and engine, even with foldaway seats too!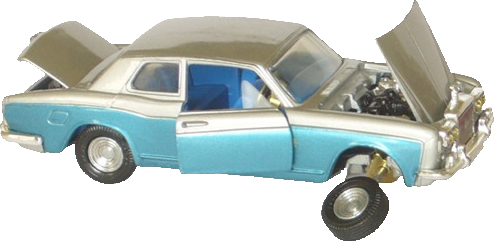 Its box still shows specific illustrations representing the model with an adapted decoration. All that characteristics, and a brief production of about one year, make it if not an expensive toy today, a still sought after product when in decent condition. Well known in its pearl white over mid-blue coat, it exists in a scarcer silver grey on metallic blue version. This one, except for its limited production is interesting and you will understand why.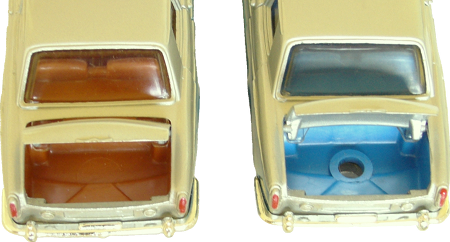 The seventies dawn saw a drama in the miniature's world. The "speed", "whizz", "fast" and any other "go fast" wheels appearance. Though we had not faithful hubs for each models, we however had realistic ones and they were just true hubs. I.e. with rubber tyres, just as the real cars have. But with such needles bearings, or fast bearings, came the "button wheels"! The wrong word in fact for wheels that were uglier that true buttons on the one hand, and far less efficient to put a jacket on in the other…
With such a big change, only seven months after the model launch, Corgi-Toys gave it a new number: 280. Not designed for this Rolls-Royce, these wheels spoiled the car's look, which was now too high. Moreover the "sport" look doesn't fit such an aristocratic car. But horror had only been perfect after many tries. Among these attempts at Corgi-toys, was the "red spot" Whizzwheels.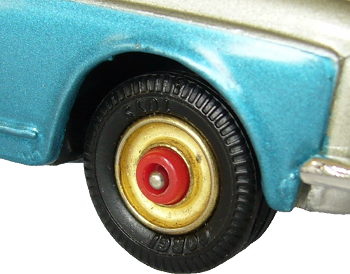 These ones are superb… on race's cars, but you must admit that this small red hubcap doesn't fit every car. It is hardly in tune with some colours. This wheel type still offered real rubber tyres. But don't try to remove one of them. Whizzwheels axles are so thin that you could damage them attempting to take a tyre off. The red spot was just a plastic part mounted in the centre of a metal hub. I suppose it was to minimize frictions between hub and its axle, the first step to an all plastic hub I presume.
This was not the only one on this hideous path but some were not uninteresting. This Silver Shadow, now numbered 280,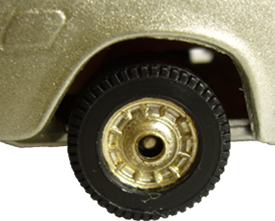 had a whole metallic grey coat variant always mounted with another sort of wheels, a plastic hub with a plastic tyre glued on to it, making it a monobloc type, the material look was rather more realistic than the following ones. If we except various "button" wheels patterns, there are three wheel types known on this 8 years of production toy: the rare red-spot, the light alloy look one, and the button one finally with needles bearings coupled. If the two first ones are faster than the removable wheels (number 273), they can't compete with the button wheels which excels in what they were designed for. Only these deserve their name. The other ones don't provide more than a 1950's toy.

Let's talk about the colours now. The silver grey on metallic blue coat is interesting because it dresses several versions, even the number 273. The look of a car depends on its colour, even if it's a scaled one. Identical colour schemes thus can reveal how wheels can modify the perception we can have of a model car.

You just have to take a look at this Silver Shadow trio to see their aspects are quite different. At the time, a colour (red) spot or improved rolling facilities certainly pleased the customers that were first, the children. But collectors, careful and faithful to the model's could do the same experiment today, by viewing these three cars together.
More variations can be seen on the number 280. Looking at colours first, the blue, when painted all over or just the low part of the car is sometimes dark and really metallic, sometimes lighter with few glitters. Grey nuances can be found too.


Now let's see something interesting. Its door trims. Two types are known and the first that appeared on the "Take-off-wheels" copies is the most ingenious. Corgi wanted to figure the deflector, despite the window was lowered. Such a small thin part would have been so fragile. That why Corgi team found a bright solution. The clear plastic part is a large piece featuring not only the deflector but the whole door trim, with armrest and various switches and handles. Then this area had to be painted the same colour the upholstery was. Sometimes some paint drops can unfortunately be seen on the deflector. The first Silver Shadow Corgi in mint condition I had, had this factory fault, but I long believed that it could have been refurbished, I was a Corgi rookie then. Later versions have doors trim casted with the door itself. No added piece is needed, but sadly no deflector no more.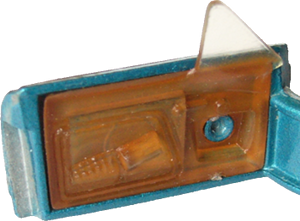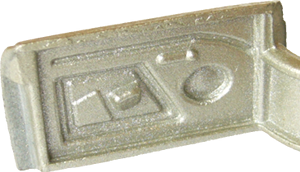 We can now see boxes variations. Of course the first one was for the take-off-wheel model, the number 273. Then I think the first one for the number 280 is the largest one, sharing the same drawing with the number 273 one. It's a nice but bulky box for those who collect 1/43 and often like their boxes compact size.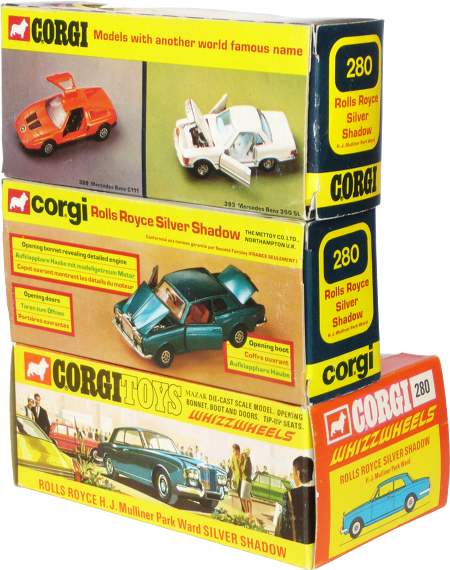 The one which seems to be the most wide-spread is the one showing two nice real … Mercedes models! 0o! One less common type is the one where a picture of the real Silver Shadow Corgi-Toys model can be seen. A pretty one!
Not So many distinct colours, but many small differences can be found and collected. You don't have to collect them all. And if you'd like to just have one copy, I would advise you to seek for a detachable wheels one, then why not to find her twin sister? Born almost the same time (actually in December 1970), she's pink and called Bentley T. What a nice pair to have with the number 280.

But why did I say this model is not the most beautiful Silver Shadow ? Because two years before Mebetoys, Italian maker launched its own version of the car. And what a model ! All parts opening too, détailed engine and folding seats either. Nice suspension, beautiful hubs, and really better lines though I'm not sure that following pictures clearly show it !