A classic model of a classic car.
To answer many reader's questions, here are some more information on this great classic stunning model. Let's spot the focus on the real car first. Yes, It's a Bentley. It's a coupé too. But a convertible one. « Cabriolet » as Frenchs say. Drop head so. Dinky is less prolix about the model's name. As if Corgi-Toys, a few years later, would have just laconically called its famous DS Le Dandy : « Citroën coupé ».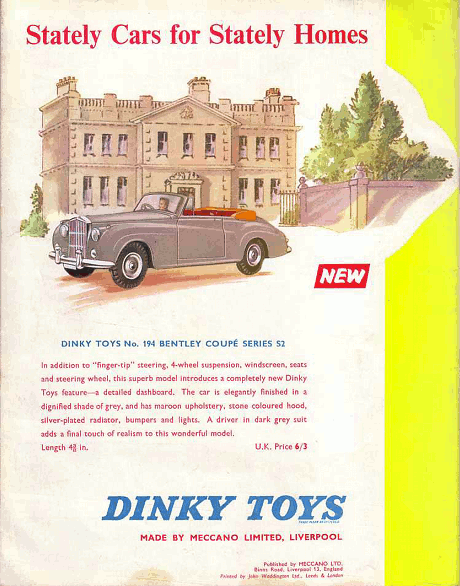 Fortunately, even if one isn't a Rolls-Royce's twin brand expert, the march 1961 magazine Meccano allows to identify the automobile. Thus it clearly indicates that it is a Bentley S2. Yes. Indicators on top of wings, year of production, etc…, everything matches. And man can suppose that the hood hides a V8 engine but no 6 on-line cylinders no more. Dinky-Toys, as many of its competitors owed to be attentive to automobile current events, and to regularly innovate. All Rolls-Royce and Bentley proposed by Dinky-Toys in the late 1950s and in the early next decade incidentally offered novelties called « first ». Moreover, revealing the acceleration of innovations in this time, Dinky-Toys announced almost every month :  » Another First from Dinky-Toys  » in a almost disenchanted way. Huh ? Another first from Dinky-Toys ? Yeah … Well… What's up doc' ?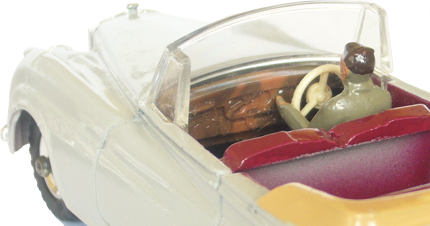 What's about this novelty then? A detailed dashboard. Oh odometers are not painted. One have to wait for that decals at the beginning of 1980s, and much later for chinese labour to see such a detail in 1/43 (1/50 in this occurrence). This is actually a board made of plastic that is a mix of various chestnut tones. So it gives the illusion of wood's veins… huh… plastic's veins. You see what I mean indeed. This board is inserted into two gorges on each side of the body. And if it wanted to fall, the body and his collusive chauffeur would prevent it from that. The driver first of all. Because his legs come just on the board on one hand, and because he is solidly fixed to his seat by a snap on the other hand.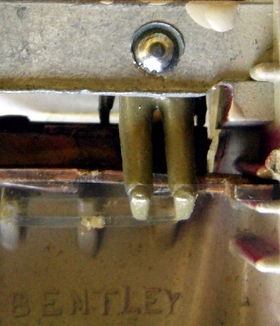 Does anyone know about that ? Were all the Bentley's drivers mazak made, or were any plastic? I have the same driver who seems to be original, but who is plastic. Is it a later version? Speak about variants, you naturally know both upholstery colors. The maroon one and the later red one. It is that brighter one that I prefer. If I assert that the red appeared after the darker maroon, it's because of the March, 1961 Meccano Magazine back full page publicity that indicates without any ambiguity that the new model's upholstery is maroon. The rather neutral grey of the body only contrasts then with light brown hood cover. That is why I like the red seats which illuminate, believe in me, this magnificent model. Later, was offered a totally different color. A copper one, matched with magnolia seats, and blue hood cover.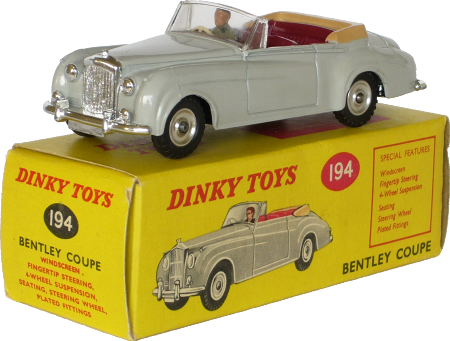 It is certainly more beautiful, but I find it less… « Dinky »! Stupid, right ? I find that the metallic colors, appeared in February, 1962 for the first time on Rolls-Royce Phantom V, are certainly adapted to top of the range vehicles of moment, but put the brand's products in a modernity that is not what we look for in such a toy today. Logical isn't it ? The copper-colored version seems to be the latest three.



I noticed on all the models that I was able to observe in this colors combination, a defect on the right front wing which could reveal a mould wear. What a life he had ! Everyday offered to sale copies confirm that it's a very wide-spread model. To South Africa where Harris assembled the spare parts which the Binns Road factory sent him and where two colors are known this day, cremates and lime. And even in India where the mould having already lived a long time, will allow after its repurchase by Nicky-Toys, to make this model last trough an infinity of tints and wheels variations.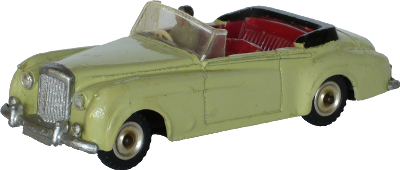 This manufacturer will even propose a very rare version of Rolls-Royce Silver Cloud II convertible with its specific box. I do not know on the other hand if its base were that one of the Bentley, also numbered 194 in India. What is sure, it's that it is, without it shocks, to replace the Bentley grille by the Phantom V (#198) one. Last known (from me) use of this mould is the one made by the small rubber automobiles Norwegian manufacturer : Tomte-Lardal.

Mr Roulet, Dinky-Toys specialist, considers this model as attractive, what is not, from somebody who doesn't tend to effusion in its works, the slightest compliment ! And it is true that it is beautiful. At first because this Bentley (thus Rolls-Royce) remains one of the most elegant automobiles ever, and due to Dinky-Toys telling it in a faithful way while throwing it in a Peter-Pan dimension (oops!), where its familiar silhouette becomes the magic formula able to reveal their children fantasy world to the wise fathers.
Even if collectors not collecting either Bentley or English Dinky-Toys have this model in their display cabinet it is because it has other qualities. Not only a faithful upholstery which paintwork, typical of these times, gives a rather realistic aspect, but it proposes, you've just read it some lines before, a driver ! Sorry it's not a first. It's not so much neither. But, trust in me, it's great ! A self-drive car is nothing else than an auto-imovable. This accessory, even if it suddenly locks it into the a dictionary conformity, frees it, gives it life. It just becomes an auto-mobile. Free to go on bucolic roads with the felted sound of its eight cylinders engine, to swallow the motorway ribbons, unwound like of planes trails that it lets behind it, or to stroll on the riviera. She can effortlessly welcome scaled passengers to front as to backseats.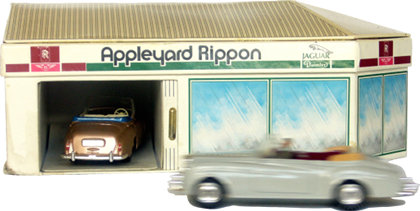 I just wanted to draw your attention on how much the presence of a driver changes the perception we can have of a model car. How much it brings life. But just don't put it on a car transporter…
Living being, this Bentley is. Thanks to its driver thus, but also grace in its flexible but efficient suspension, in its pleasant steering, while not as achieved as that of the Corgi-Toys Bentley's one. In spite of its dashboard, its windscreen and its bumper and radiator grille parts, it remains a very simple conception. Two stencils were used, the one for the upholstery, the other one for hood cover. As usual at Dinky-Toys, the demarcations are rather neat. Only one hub type is known : convex one.

And all the tires which I was able to see on about ten copies that I had are « M » marked. The card boo too, will be single type only, with a nuance in the background yellow, as for example for that of Rolls-Royce Silver-Wraith. There was an inside packaging as a cardboard ring, which protected the windscreen during shipping to retailers.
Maybe have you anecdotes connected with this model, or further information that I would happy to know. Because it is the type of magnificent model, with only few known variants, with a rather crystal clear history, and that will enthuse the amateurs of this automobile or the ones of the brand, maybe even the esthete, more than the Dinky-Toys collector. That's why I'm sure many of you know much more about this model car. It has moreover an great argument : a moderate price. Whatever it is worth, you may add from 15 to 20 % more for a version with red seats, and from 60 to 70 % for a copper color model. The Indian versions are appreciably exchanged at the same price than the most common version, as for South Africans swapped from 25 to 30 times the sum granted for the grey model. If these automobile coachlines please you, don't think twice to get one. It is otherwise a model you won't miss. In that case, please write me to say how you can have so much will. It would be a big step towards a kind of wisdom for me.