A classic toy for a classic car : Corgi-Toys Bentley Continental S type.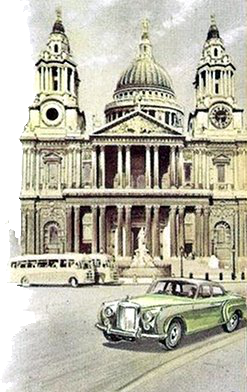 You all know this Bentley S Continental. If you don't you undoubtly will find this page more interesting. May be am I conceited, qualifying this article that way. So let's just say instructive.
It is because I like this miniature so much, and regret that there was not, as for the same manufacturer Jaguar Mk X, about ten colors at least. But certain Corgi-Toys, rather rare, were only declined in one, two or three colors. Just to the attentive reader, I say at once:
« You're right, there is a gold finished version which was marketed, seven months after the the toy launch, in the Golden Guinea Gift set, but this variant, even rare, don't interests me really not at all!  »
Talking about rarity, I would rather prefer to find a version with bumpers and radiator grille stuck golden. But these extremely rare models have to be a handful of units, unless it may be a question of a unique trial, and are almost untraceable.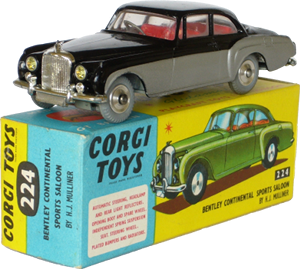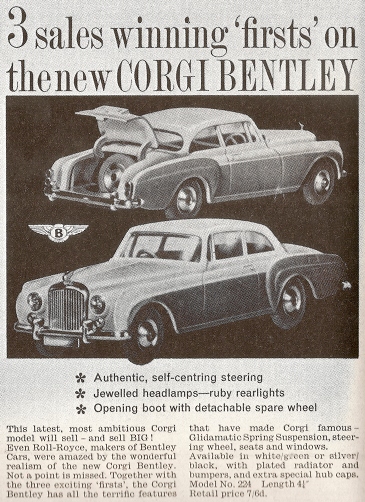 Before inspecting this model from every point, let's see the paintwork we have. Color schemes are two. If excepting white that somebody pointed out replacing the usual very pale green. Refering to Easter 1961 Corgi model club magazine, the first offered color combination, is varnished black over metallic mid grey. Two real model cars there appear photographied in this tints association. However, if we take attention, the background in which the model takes place, in the 1962 copy, shows the coupé in its second dress. An ivory, or very very pale green, depending on individual percerptions, on olive green. And a black and white printed advertising to the retailers, claiming this novelty, shows it with a very pale upper area. The tints disposition, points out the famous Bentley S and Rolls-Royce Silver Cloud coachline we can find here, in this well known car, that is derivated from the standard saloon. This color disposal is used for all models. In every model too we have the same upholstery color : red. It fits very well to the different body colors. Whatever have this one a light dress, or a more strict that concedes nothing to the elegance.
The Bentley Continental, which is itself yet a stylish and desirable, however marked the world of scale models with no less than three news and even four ones in the range-Corgi Toys! This equipment had appeared in February 1959, two years and two months earlier, in Dinky-Toys range, with the Rolls-Royce Silver Wraith. These are reported metallic bumpers and grille. Here still a feature. The rear bumper is part of a large plate which forms the floor and the trunk bottom. Curiously, zamak base even extends until the end of the car … to attach the plate. This choice may be explained, but I still haven't found the reason why.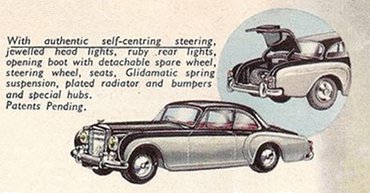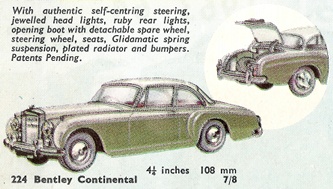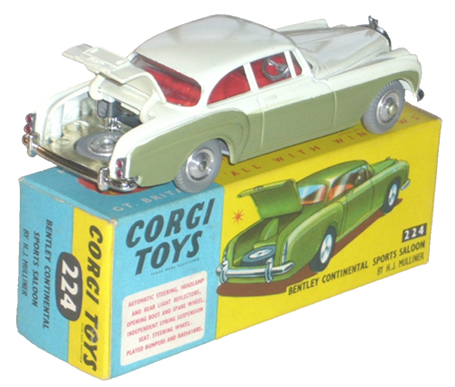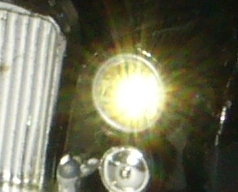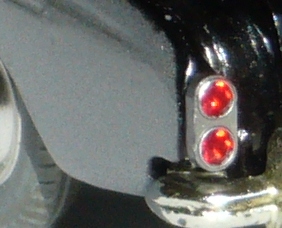 The other three novelties are real ones and one of them will be a milestone in this microcosm.
This is the « jewel headlights ». Corgi-Toys did not do things by halves. He has not only gave his car headlights diamonds (i.e. mid-size white rhinestones) but also jewels rearlights (red tiny rhinestones) that are four ! These little gems are embedded into the corresponding holes, surrounded by a small joint. Great art, but also a cost increase. This equipment will gradually become the standard at Corgi-Toys when it is not overshadowed by another system as the process Trans-O-Light for example.
On first glance curious aspect, it can reflect light and thus give the impression of lights and headlights. Even Dinky-Toys will use them, but relatively later.
The second « first » is a direction coupled with independent suspension ! this combined suspension and steering I already have evoked in some other articles, is very successful, and from much higher enjoyment than in Dink-Toys. However the management has the same quirk than its direct competitor. You must press the side to which you want to run, unlike, for example, to that proposed by Tekno that obeys the laws of conventional physics. Before addressing the following new, I suggest you to take a look at this system. I did not dissect this toy, but the two following pictures could hopefully help you understand how it works. Each wheel is mounted on a semi-axis plugged into a small plate attached to the lower cradle which is inscribed « foreign patents pending. » Each plate has, towards the front, a vertical axis around which is mounted a helical spring. Backward hole can receive the coupling wheels rod.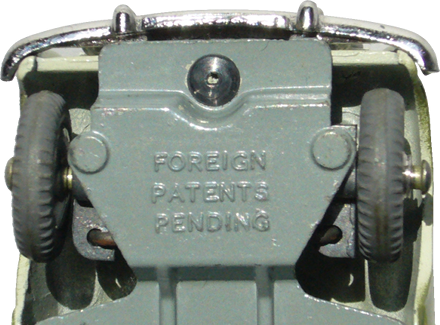 When a wheel is rotated, the bar is rotated so the other plate. But that doesn't disable each one to compress independently from each other, its spring and therefore to offer a significant vertical movement of the associated wheel.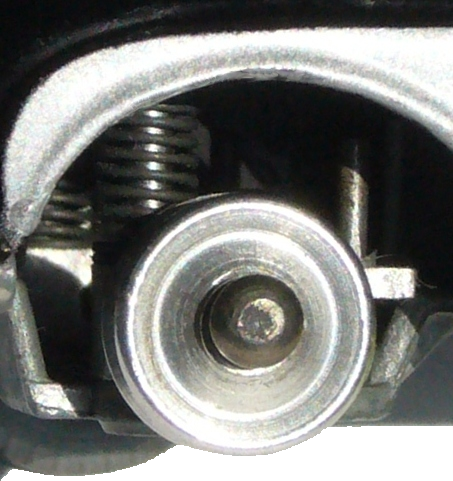 On the second shot, you can see the spring, but also the length of the coupling bar return that serves as a second guide plate supporting the wheel axles. So you understand that « Authentic self-centering steering », which automatically refocuses as its name suggests, won't equip more than a handful models as Corgi Toys, as its cost was very high.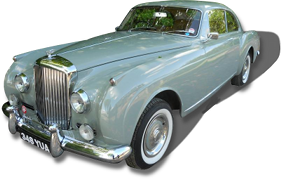 The third feature is the opening trunk, which houses a spare wheel. With hindsight, it seems almost ordinary, even be part of the minimum provided by a miniature. But the observation of the various manufacturers ranges shows that it is not a so common feature in the early 1960s. It may even be noted the adjustment accuracy, that we always find at Corgi-Toys manufacturing, and that is highlighted by comparison with a similar product of a well known rival for instance.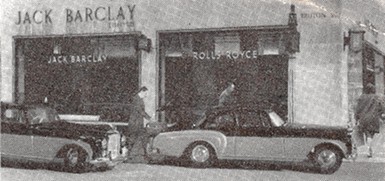 We must not forget the windows that are fitted (only two years later appeared in Dinky-Toys), a fitted interior with wheel and rear suspension both as enjoyable and efficient as before though from different design. Its metallic coat, for copies such painted, is very fine and it is virtually impossible to detect any glitter. A curiousness of this model are its gray tires. Very uncommon colors in all manufacturers. Real cars sometimes had whitewall tires, but never gray tires! (Or worse: white…) You even may notice that this will be the only Corgi-Toys to have such tyres.
That's everything that makes the model appeal at the time, and still today. A conventional vehicle, although modern, which contains a lot of innovations that appears to be usual at present. With rather well transcribed lines this Bentley maybe isn't a model car reference, but is however a milestone in toys evolution. It's my opinion anyway. It must also be that of the design office at Toys-Corgi which included Marcel R. Van Cleemput. In his book, which is a reference to the knowledge of the dog emblem toys, he gives it an important place. And this is one of the Corgi models who was entitled to a full page * in the club magazine in one hand, and especially had its specific display stand (like the DS Dandy, Bedford Carrimore or jaguar Mk X) in the other hand.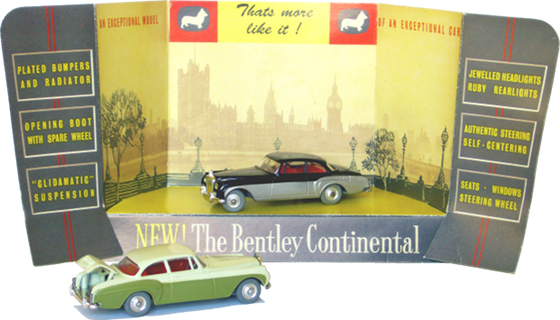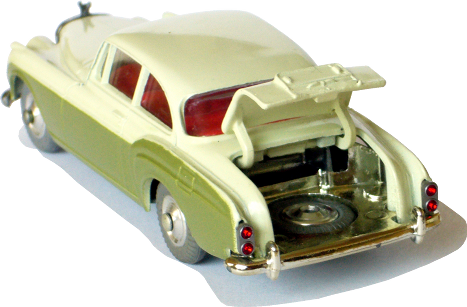 In the club magazine, we see a shot of two model copies in front of the famous London Rolls-Royce & Bentley dealer Barclay's showroom. These little tricks will be explained a few issues later, to allow children to make their own staged models of their collection.
Its build quality and its zamak thickness make it a little bit heavier than the immense Phantom V reproduced by Dinky-Toys (the first one, numbered 198).
The scale that could be considered more or less fanciful, is actually very consistent with the rest of the range. Corgi-Toys range? No. The Rolls-Royce and Bentley Dinky-Toys one ! Look carefuly these models together. We might discuss about the Phantom V, using a caliper, but the proportions seem satisfied. Where doubt is no longer possible, it is when compared to the other mazak made Bentley S launched this year 1961. If we refer to the following articles which suggest that there were close links if not legitimate between Corgi and Dinky, it is happy that we the two manufacturers did not offer this time, one month apart, the same model. One is a coupe designed and built by Mulliner, the other a « factory" convertible !
Produced to nearly a million copies in April 1961 to 1965, it is a common Corgi Toys-you can find easily. You will choose the livery you think it go better. Doubting, don't think twice. Take two.

« A JEWEL AMONG MODELS
Everybody knows that there is no finer car than the Rolls-Royce – unless happens to be its twin sister the Bentley ! The latest models are certainly the most magnificent examples of motor car engineering made today, and when Corgi's engineers and designers decided to add a model Bentley to the range, they were determined that it should be no less brilliant .
From the beginning of April [1961] you will be able to see how well they have succeeded, for the new Corgi for that month is without question the most wonderful model ever produced. It is a scale model of the Bentley [S] Continental saloon, No. 224 in the Corgi series, it is 4 ¼ in. long, and it positively bristles with new features !
Of course, it has clear plastic windows all round, and a fully detailed interior complete with dashboard, seats and steering wheel. But in addition it has true independent front suspension, the front wheels having individual springing. The wheels are mounted on steering swivels, and a pressure on one side of the car or the other will steer it in the direction required. The wheels are linked with track rods, too, so that when you leave the model go, the steering straightens itself out at once.
The radiator grille and bumpers are plated to an extremely high standard of finish and at the rear, the luggage boot door opens upwards, like the real car, to reveal, luggage space and a removable spare wheel. To cap it all, Corgi engineers have had the wonderful idea of using tiny jewels for head and tail lights. If you look at the model in bright light, you get the impression that the head-light, and tail lights, are really gleaming. Small wonder thath Corgi model 224 has been described as a « jewel among models ». I completely agree with that, and Philip won't tell you otherwise either! This miniature shared a plenty of his childhood time. Read what he says (translation was harder than the rest of this page…)
Philippe had this Bentley when young. And he remembers it well ! Because it was its favorite model car !
« Prestigious, because borned BENTLEY, playful, with its obeying suspension and steering » its opening boot and its spare wheel. Its line made me "something » in spite of its "bastard" scale, ignoring then her relationship with my dear FACEL (when will we have Cresta model ??????).
Green and white, she shared this dress with a VW combi « 32 windows » and a Ford Thames camper, both from CORGI; this trio allowed me to move elegantly from a race ring to another one, in my games of young collector, « I » in Bentley, sleeping in Thames (and taking of course the tea there), whereas my mechanics adapted with combi.
Few miniatures can boast to have been constantly in my top ten, quite as the Solido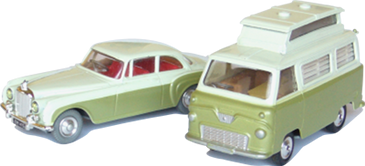 Silver Cloud, even if, being honest, I returned the original to my sister, its legitimate owner, once I've found a similar one in a sweep meeting. »