Rolls-Royce Silver Shadow coupé MEBETOYS Ref A26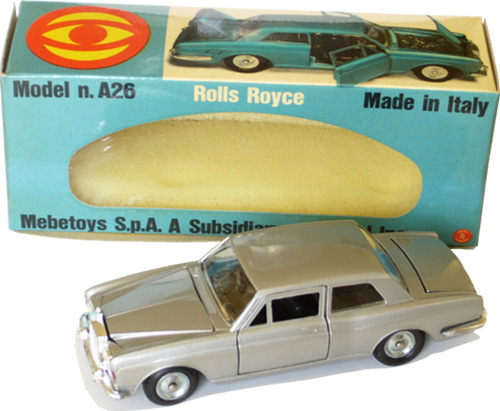 Silver Shadow again ? Yes. And a coupé too. As the one from Corgi-Toys you could see clicking here. Do you think you could be disappointed ? I don't think so. I'm sorry I won't all color variations, for they tend to be very expensive. I don't want to give more than forty euros for a MIB model, and let them when more expensive, just wishing that craze will stop. But one model is enough to explore a lot. First because this toy was launched at the same time the Corgi-Toys one did, and it will be interesting to compare both cars. Then because this Mebetoys itself has many qualities. Let's begin to present it, before its discover, and then its competitors and copies.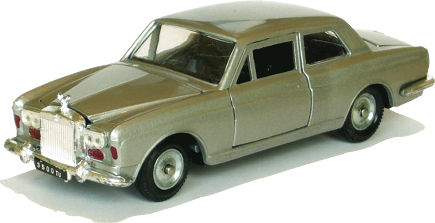 You can read it on the car box, Mebetoys is an Italian brand. He has produced many beautiful models as this Rolls-Royce launched in 1968 and withdrawn in 1971. That's why its name could only be Silver Shadow because Corniche appeared in this model last year production. It is known in the colour you will see in this page but in a beautiful metallic maroon, and in a stunning turquoise green, just talking about the most remarkable ones. Its mazak body has all parts opening as the real car. The bonnet reveals a detailed engine made of both black and chromed plastic doing it a must of its period. Doors welcome both driver and passengers in a very realistic and confortable interior.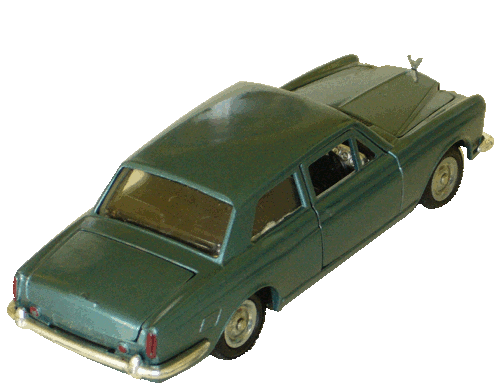 So realistic is the driving wheel, and so could have been the dashboard that has detailed features such as counters and glove box, if this one wouldn't have been silvered… But man have to remember this model car was a toy first. Hubs are simple but very nice and looks like Rolls wheels were then. Body lines are a real success I find respecting the car character. Inside mirror and wipers are with glasses moulded. Bumpers are faithful as is the grille and (with a toy in mind) the mascot is well done, solid and with a almost correct size, and are chromed metal.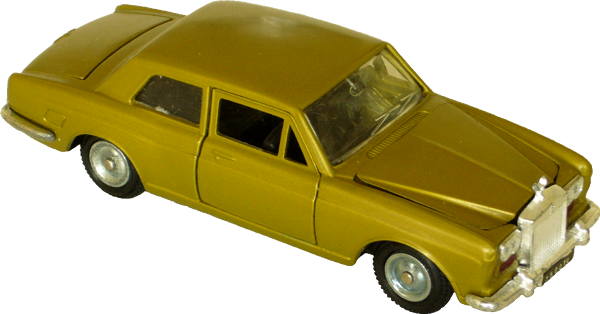 Headlights are superb with clear lenses. Red paint is used to feature rear lights and front flashing indicators. But this vermillion coat is used for reverse light and front air intakes too ! A small error that is present on several copies.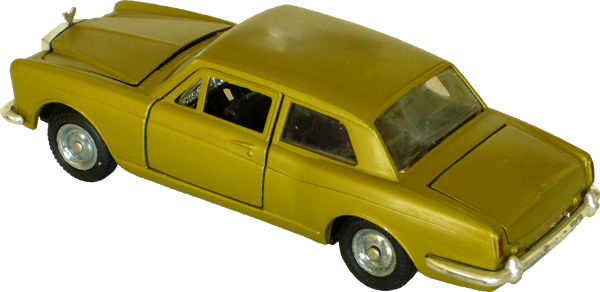 This toy has a screwed detailed metal base and can be considered as a successful model of the real car. Even more taking a look at its firm and however flexible excellent suspension and to its conform registration plates. These ones are Rolls-Royce factory properties. TU meaning Test Unit*, this plates were used for test cars. For me this model really equals the Dinky-Toys quality and accuracy at the time. I'm sorry I can't show you the two box types because all that I got are the same. The other kind has a different window's shape and its background is in a tweed style the photo still showing a blue model.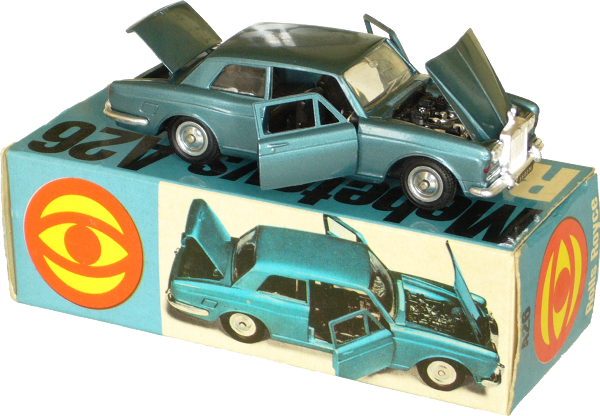 Corgi-Toys only offered its Silver Shadow coupé two after Mebetoys launched its one, though Corgi was a major toymaker and moreover was English. Comparing the two model cars shows the scale was at least real 1/43.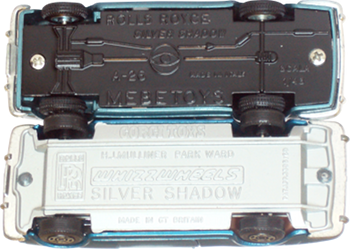 But it shows too that

interior trim, parts, and particulary body were not as accurate at Corgi as they were at the Italian small car. Global lines and showing makes the Corgi-Toy Knock-Out ! And whizzwheels absoltly don't make the things getting better ! We can just wonder why Corgi didn't take time to learn how Mebetoys did a so beautiful toy.

We could discuss about front air intake grilles size or about boot lid handle position, but just take a look at the car from a feet or two, and particularly the rear part, and you will see how refined is the Mebetoys. One toy maker didn't hesitate to use what the Italian brand made. You'll easily understand why.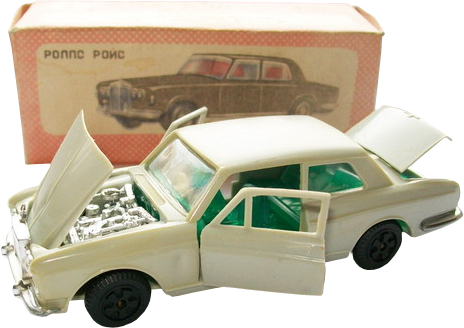 Partnership between Russia & Italy has been a reality for Italian Communist party was very strong in this time. That's why we can find many Italian model cars in the USSR toy range in the late 1970's and early 1980's.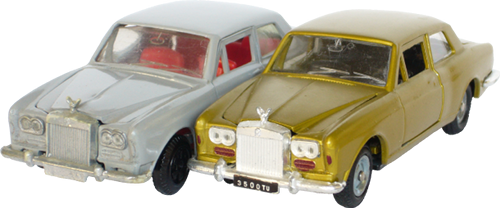 This Rolls-Royce obeys these rules. ModelKopia Donetz, exactly did the same model car, but using plastic for every single piece except wheel axles, of course. As you can see, even the base has just been changed to make the brand name to be removed and the logo to be replaced. Even "scala" is an Italian word… All doors, trunk and bonnet are opening, and it still has a suspension.
We can just notice that body colour are plethoric as are the interior ones, and that headlights are almost always wrong side mounted. But not always as you can see with this canary yellow copy !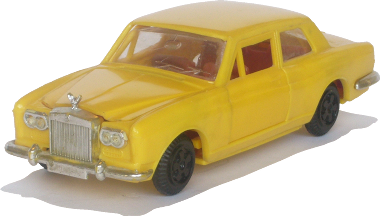 * Another RR legend. Actualy TU is registration for Cheshire from 1925 to 1928 and then since august 1963.