The Corgi-Toys Mercedes 600 Pullman Mystery.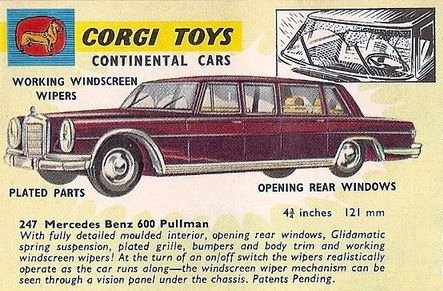 In early 2009 I bought « my » Mercedes 600 Pullman by Corgi-Toys. One of the very first model that wasn't a Rolls-Royce or a Bentley to come into my display cabinet.
Because that was a model I remember somebody have, when young.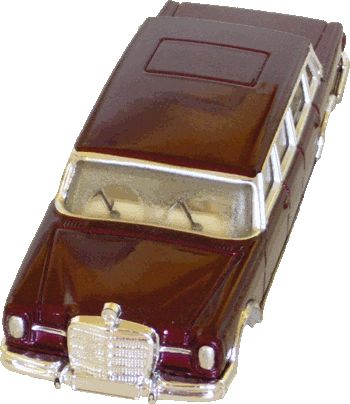 Visiting some of my parent's friends I remember this limousine and its working wipers that fascinated me.
Buying this model car, was a way to go back to a pastime paradise.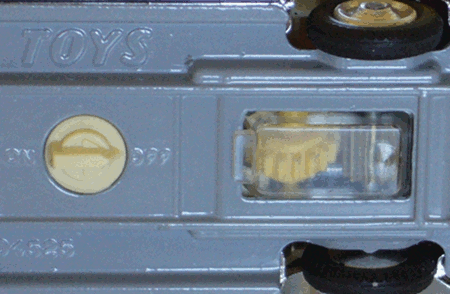 Three years and a half later, looking for a Corgi-Toys Mercedes 220SE empty box, I found a real bargain. Not the box I wanted, but another Mercedes 600 Pullman. What for ? Because I already had this model. It was just an opportunity to swap this one for another different toy one of these days.
Opening the box, I discovered, best than expected, a mint model. Sure of its fully original condition, I however found it somewhat different from my first copy. I did put both the cars side to side. What a great surprise. Difference was huge because the newly arrived model, had no windows silver trim.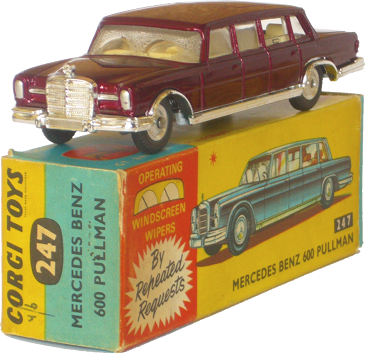 I immediately told some others collectors from various countries, what I had noticed. The second surprise was that they all told me my new copy was just the common one and even more. And surprisingly that they didn't know any copy with a window silver trim.
That's why I believed that the first Pullman I had could have been touched. So I had to inspect it again, to determine if the silver paint had been added before the car was made.
I took a close look to all windows surroundings. The first point I remarked is that the job was very neat. I know many Dinky-Toys refurbishers, and they all told me that they couldn't do a so clean job, even using a stencil. Because the silver paint was sprayed, obviously not by brush applied. Then I noticed a body defect, just on top of central left window. This defect has been painted too and though it has a micro-hole there's absolutely no trace of silver paint on clear plastic.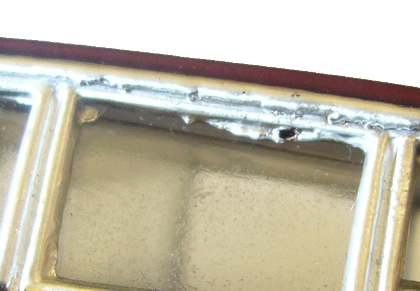 This made me think that silver paint has been applied before car parts were assembled together.
So this copy seems really to be original, and I never had any doubt about that, before this time because The Great Book of the Corgi shows such a fitted model.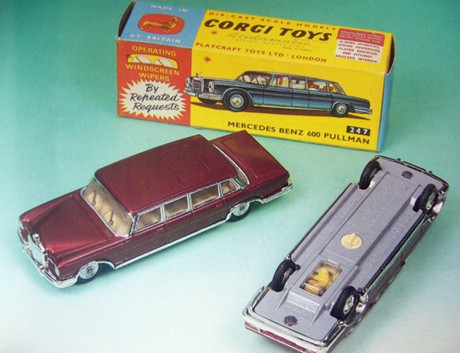 Other collectors were searching about this rare variation, and some found an answer's beginning. A Dutch one posted a picture of its played-with copy, showing silver paint remains around the windscreen. In fact, the silver paint coat is above the maroon paint, as you can see on a close picture I took.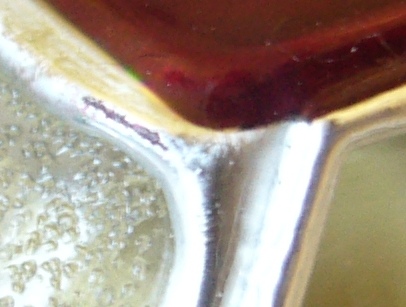 Another collector found a copy as mine is, in a dealer old list.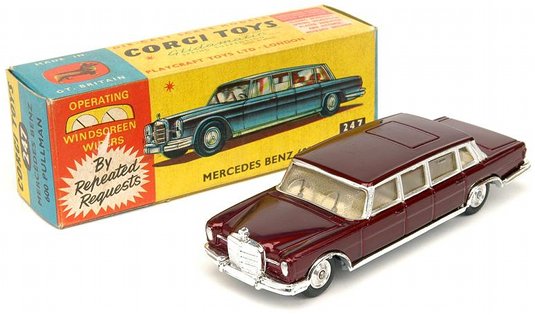 It looked analogous. So similar that, looking at the box, then at the wipers and the upper area of the central left window, it's mine ! "My" Mercedes has the defect I noticed, but some other too. The wipers – actually clear plastic discs with a black painted line – are unique as the right one has two line faults. And the box has exactly the same removed label mark.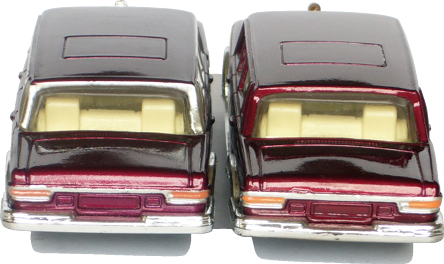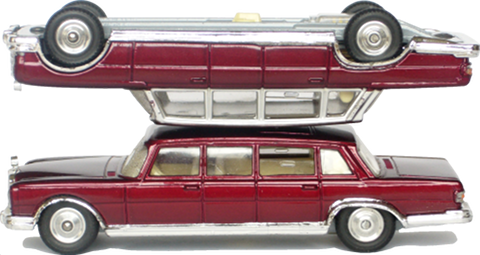 So to sum-up, we all have found three Pullman copies with windows silver trim. A played-with owned by ???, the one illustrating The Great Book, and mine.
But what are they ? Trails ? Pre-issue ? Early issue ? The only thing we admit, is that they're original (I think we can think the Book's one is original can't we ?), and scarce even rare.
Can you help us ? Do you know about Corgi-Toys Mercedes Pullman genesis and its variations ? If you only have an idea or can tell us the complete model story, just write at corgi.toys@yahoo.fr
Since I've wrote this, Graham, English model colletor, proved that is actually a Corgi-Toys rare series. Because its one hand driver car (all original model then) he bought in late 1964 has the same feature.  So here we have four rare silver trimed Pullman.