English pages
Sorry for my poor English first. I would just like to share, here, a little bit of my model car enthusiasm.
So you will quickly notice that style and syntax are many times wrongs. Don't think twice writing me at

corgi.toys@yahoo.fr

to ask for further details about cars, and to correct too ugly sentences.
Let's go !
Bentley S and Rolls-Royce Silver Cloud Mercury.

The Rolls-Royce Silver Cloud is one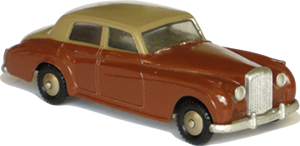 of the most beautiful car of its time. Nor Dinky-Toys or Corgi-Toys have produced it in its most common body, i.e the standard steel saloon. But why should they have done it ?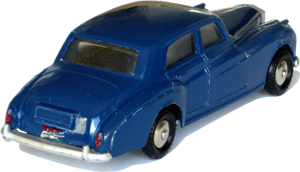 Such lines aren't easy to scale, but Mercury, Italian toys maker made them successfully. And so it did with the Rolls-Royce twin sister, the Bentley S. Two magnificent models to discover (again) by clicking the one or the other picture.
Rolls-Royce Silver Wraith by Dinky-Toys #150 & 551.

Do you know George ? I'm sure you don't ! George is a 2.0 friend to summarize. A virtual meeting, but a nice friend however. A kind collector that was interesting in helping English collectors to discover some information about Rolls-Royce model cars. I didn't ask him to correct sentences like these ones,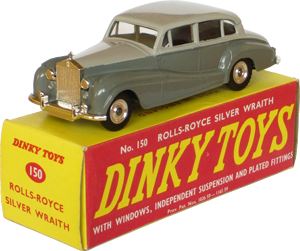 but when I write entire pages, he corrects me. I would have been too shamful to present you my hardly legible English. The best is to see what all together we can offer you. Today is a small page about one the best known Dinky-Toys : the Rolls-Royce Silver Wraith. Just click on the picture and you will see that lovely model. Thanks to George !
Austin A60 Deluxe Corgi-Toys number 236 & 255.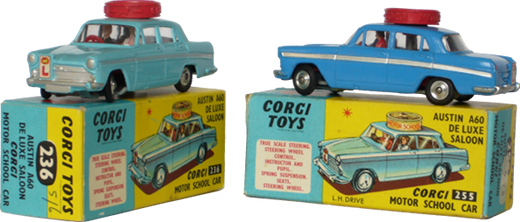 Thanks to George again ! Not for these short lines I didn't ask him to correct. Thanks to him for the page he turned into true English, and you can read just cliking the image above. I just discovered this beautiful toy a few year ago and wanted to share my enthusiasm. So you will find some close pictures, comparisons, facts and figures. Just a basic knowledge about a mass produced toy. Feel free to say something's wrong or to add some interesting thing I don't know.
So let's go to discover a 1/47 scale motor school car sold to near one million copies. The Austin A60 Deluxe from Corgi-Toys.
Rolls-Royce Phantom V Park-Ward by Dinky-Toys, number 198.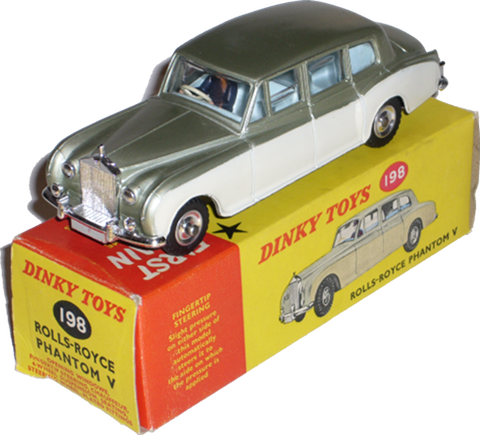 Tired of classic Dinky-Toys ? I can understand. But are you sure to know it well ? Reading the Phantom V page you will find ten pictures showing five different versions of this magnificient limousine. Every copies don't have same rivets number, did you know there were ten different colors ? No. It's time to take a look.
Corgi-Toys Smith's Karrier Bantams. Mobile canteen #471 & Hygienic mobile shop #407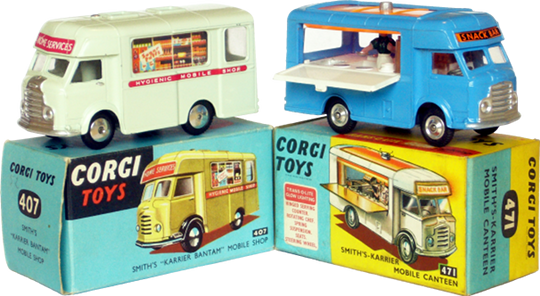 They're almost twin toys. More similar the one to the other than you can imagine at a glance. Many pictures will show you that, and also will demonstrate that such a toy was not taken out of Mr. Corgi's imagination. Of course, if you're English, you probably knew it, but I hope you'll still have pleasure to see pictures of such delightful toys. And I even hope you'll learn one or two facts about them. I think you now know how to access the lines I wrote and Geo corrected. No ? Click on the picture to see.
Dinky-Toys Phantom V 152, 124 and 1001

Thanks to George. Because he turned my words into true English, you now can read this page. As usually, I hope you will learn details you didn't know until today.

What details ? Details about another Dinky-Toys. Another Rolls-Royce Phantom V by Dinky-Toys the second and last one they made. Let's the pictures take place.
Corgi-Toys Silver Shadow Coupé 273 & 280
I would be happy you would learn about this model reading the page I wrote. If not, just enjoy pictures. Quite many pictures, because there are lots of details varying from one of this model's variation to another.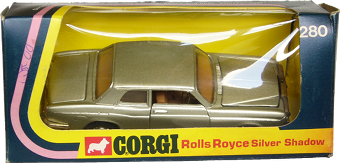 Hubs, colours, boxes and even the reference of this famous Rolls-Royce. You're just about one click to discover all that. I like to share about so nice model cars. So if you've got some anecdotes or precision I don't have, I would be happy to add them on the page.
Dinky-Toys Bentley S2 194

Another Benltey Continental. Same scale than the Corgi-Toys one. But fortunately not the same model this time. (Yes, you can see here that the two major brands sometimes produced the same version of a car whom at least two variations are known). A very classical car who had a long life and so many copies that you can find one or two model for sale each day.
Corgi-Toys Bentley S Continental 224
Corgi-Toys said in his Easter 1961 club member magazine : « A jewel among models ».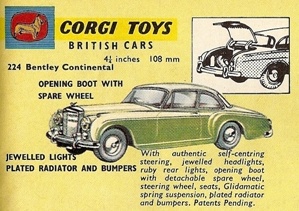 Nothing less ! A short study that you can read clicking here or on the picture below, will show you that it was right. Considering the two meaning of the word jewel it's true. Detail views (even worm's eye ones) anecdotes and a testimony about this great toy are awaiting for you. I hope you'll enjoy them.
Mebetoys Silver Shadow coupé A26
The 1968 catalogue shows a Silver Shadow sedan. But the Rolls-Royce it launched was actually a coupé. And Mebetoys did it two years before Corgi-Toys.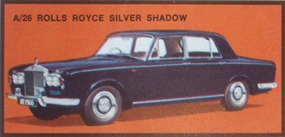 Comparing the Italian model to the Corgi one shows how beautiful it is ! And I'm sure that some pictures I took will make you share my point of view. Produced for three little years, this model car had another life. A plastic revival, done in USSR. Ready ? Let's see it, cliking on the catalogue illustration.
Corgi-Toys Mercedes 600 Pullman Mystery
I won't detail here the Corgi-Toys Mercedes 600 Pullman. This model numbered 247 is well known. And I was sure to know almost all what must be known about it.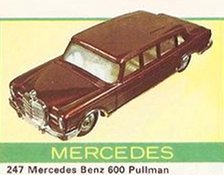 And suddenly, I reallized that there perhaps was another version than the one I thought was unique. I won't just tell the way I found the « mystery » variation. I will show you the details making me and other collectors think the model I've found is a original one. Let's try to solve this mystery… clicking on the picture above.
Spot-On Rolls-Royce Royal Phantom V
This is the first page I have posted. If this article first part can be right to you, it's because James, an kind collector, helped me to translate it. Well, let's discover this Royal Rolls-Royce. Its two variations are shown, and differences explained. I already has been helpful to a collector selling its Phantom V numbered 260. That's what he thought, because, his Spot-On was the reference 806.