Royal Rolls-Royce Phantom V, Number 260. Spot-on, made by Tri-ang.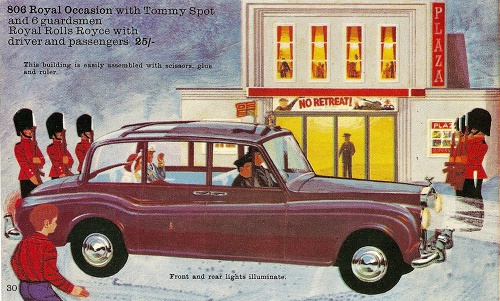 I could have said that talking about this Spot-On Rolls-Royce won't take a long time. Not that the model is uninteresting, far from there, and the price it regularly makes in auctions proves it, But I have difficulty in speaking indeed that about it though it has plenty of noticeable points. What model? Or may we rather say: what models? The same actually, but known as two different references by Spot-On. The first one, number 260, is a simple car. Simple?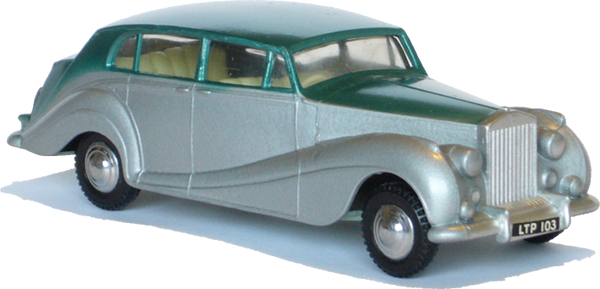 No, not at all in reality, Nevertheless, during the same period Spot-on marketed another Rolls-Royce number 260 and a Bentley number 103, both featuring windows, seats and a steering wheel .

And their metallic, well kept and often two coloured paintings, could not in 1963 forget the absence of external parts like suspension, steering or opening parts and so on. It is true that their introduction on the market raised in 1959 was the addition time to fit them out with interior trim which was a luxury that few miniatures were offering in that time slot.  Spot-on's Rolls-Royce Phantom V is absolutely royal for its time. For several obvious reasons. Firstly because it is a faithful reproduction of the Queen of England motorized coaches of the day. Canberra I a grand limousine on the 5AS33 Rolls-Royce chassis. This huge automobile both by height and length is painted here by a single colour, (Royal Claret) that looks like a kind of garnet, while its black top stands out in reality.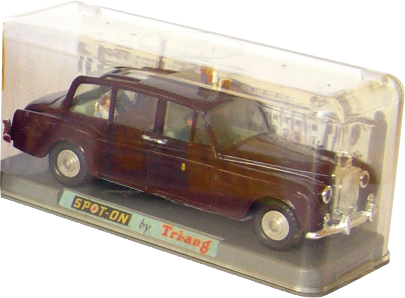 It's a pity because Spot -On had demonstrated its master's degree of using stencils to offer cars with two tone colour scheme without bleeding on the joining surface. This flaw is regrettable as this royal automobile proposes a great number of stunning interactive equipments. Somewhat common today they were nevertheless unique at that time, and not only because the car's singular character demanded it. It's true, there are four characters and not the slightest ! The queen herself, the prince consort, the chauffeur, and a foreign office's member, as it is necessary. The royal couple has, on the knees, a tartan rug, while you can notice it only the queen really wears it both in automobile and in coach with horses. I shall talk about that later. As it is an official car of the british crown, it has no number plates and raises on front of the roof, a small, body integrated, blue headlight. As for the parades, it carries both the royal blazon, and pennant of the crown which means that the queen is in board.
These parts are almost translucent grey plastic, and the blazon and the flag are stickers reproducing faithfully the royal family of England coat of arms. Doors and boot lid receive small coat of arms also which are sharply noticeable on such a dark car's paintwork. As the real automobile, it possesses a glazed roof which allows the crowd to see very clearly the passengers
(look at the 2011 prince Andrew wedding's pictures for instance)… The difficulty was to make the structure and metallic roof parts coincide to the glass dome. The manufacturer very well realized it with a very neat adjustment for that just was a toy which was relatively speaking large-circulation in the time.
Now that we saw the ruler's specificities of this miniature, we can admire the considerable characteristics which would have been able to equip any car. Bumpers, additional headlights, and radiator grill are solid stainless plastic (reported, metal coated plastic). It is fragile, but that shines a lot more than the figurative flying lady, made of a kind of shape cut from a sheet of the same plastic as standard bearer and door-blazon. The headlights circles are silvered too surrounding transparent « glass ». Big art for an 1/42 scale toy (as used Spot-On to do, but no 1/43). Wheel rims shine just as much and receive flexible and a little too much notched tires. Talking about wheels, there is a spare one in the opening boot of course. Already seen? Yes, but this boot lid has two handles. Already seen? No. These are silvered plastic parts, no cast details. We're always there in 1963 !
On each side of this boot, top of wings welcome small translucent plastic red lights. As the equipment seems to be rich let us push the nail. Doorhandles are also external parts ! And the way the door open, normal in front, « suicide » kind in the back a little facilitated the task. A single part is enough. No matter. It flashes ! Frame's cast represents, partially, blade rear suspensions transmission's tunnel, and the axles as well as the location allowing to receive the spare wheel. Why only partially will you ask me ?
For the same reason that headlights have transparent « glasses" and that the queen's tartan rug covers all the width and the depth of the rear compartment between the basis of the back banquette and the rear of the front one. I explain. This model which receives a great number of equipments (we are in 1963, I remind it to you) offers front and rear electric powered lights ! And its principle is so simple and reliable there that 50 years later it works as it does the first day. The frame is hollowed out in its center to receive a LR6 battery receptacle,

still available in all stores today. On the same case comes a small bulb to screw.
The whole set must be inserted from back to front under the car. Obviously the thickness of the electric system reduces the passenger compartment's height that only welcome no more than passengers thighs. That is why the tartan rug is there, hiding this adapted anatomy … As for the headlight glasses, they simply drive the light from the bulb. This light which gets lost a little in the vehicle weakly reaches the rear lights that shall be observed rather in the darkness then for we want illumination's illusion.
The switch is on the case and thus we can verify it works before setting up the device into the model car.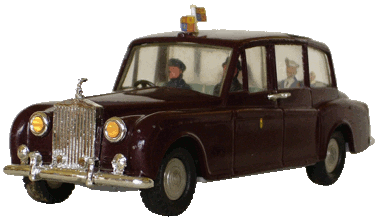 The case possesses small fragile notches which allow to maintain it in the chassis. Could somebody explain to me why the case registrations can't be read in the same direction as those of the frame ? No matter it was or not of use to another vehicle. If there had been just a little of standardization it would have avoided what can appear
as a design lack of care. Next step.
About packaging, with advance years on its direct competitors, Spot-On used a whole plastic box. The blue base is surmounted by a thick transparent lid with rounded edges. A very evanescent light tones landscape printed on a small cardboard takes place in background, a standard membership form is joined, as well as the note of the electric case assembly. Finally the box comes to take place in a blue bound insert (carder outerbox ?).
This miniature, which characteristics as much as packages give evidence that Spot-On knows how to propose top of the range miniatures, well-cared and state-of-the-art, although widely spread, will be more confidential than the commoners Dinky and Corgi-Toys, to speak that both major companies. And as all which affects the royal family of England causes, for sure, good hysteria far beyond the British islands believe in me, you will understand that even in a wreck condition (a body abundantly scaled without any more accessory, four wheels, and a frame without electric case)

it is exchanged around thirty euro or more. It is necessary to say that spare parts are easier to find than automobiles themselves.
But there is even less common there… The same miniature proposed three years later. In 1966 thus under the reference 806. Same automobile did I say ? Yes, but different in points of details.

Most considerable and most obvious concern the boot lid which does not receive any more the vertical handle. For it the boot lid had to be re casted to make the hole which receiving it disappear. Other difference: the queen changed her dress, and so did the prince Philip. Question of hygiene doubtless… The frame contains now two openings in the longitudinal axis. Is it enough to make another reference ?
Yes and… no. The two small additional holes are the enigma key. They are not there accidentally. They receive two saws. Two saws to fix the automobile to a cardboard base. This base is in fact a diorama of a London. And in this street not only majestically glide Rolls-Royceale, but are also, rifle against shoulder, six royal guards there, whereas a running child certainly wants to see the queen. These figurines can be found as spare parts (not repro), what lets suppose that Spot-On must have planned a more important production of its Phantom V.


The whole set takes place in a very wide box (more than 30 cms, the car is enormous and is in 1/42 scale, see beside another reduction of quasi-contemporary Phantom V with Cellophane to admire parade. Some have a card sheet « royal occasion » that increases the set value, even if its size spoils a little bit the point of view.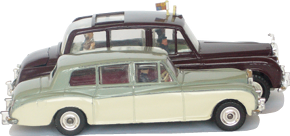 Now you know more about this sought after model. I feel that it's more quoted than popular. But does not the one come without the other ?

What you also must know, if you would be interested in this reference 806, it is a detail about the characters. These, to stand on the carded diorama, come to fit on a base placed under the carded plinth, by a tiny spur.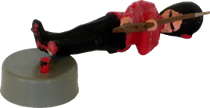 And this last one is very fragile. So that, five of six guards accompanying Rolls-Royce arrived broken during transport. Few chances of safety gluing them Fortunately, the collector and trader who sold me this small marvel, was able to find me five guards and even « Tommy », who is the name of the young boy. Spot-On proposed a series of seven gift sets called « Tommy Spot » that contained one or several cars, and various characters in touch with theme (policemen, guards, mechanics, fire brigades, father of Tommy!) and … Tommy in all occurrences ! Tommy being dressed, i.e painted, differently according to caskets.


If you wish to acquire such a model and would like want to remove guards from the set, first be very delicate pulling the soldier in its axis, then shortly after mid-course pushing the spur under.. Secondly, you will enlarge the hole by an iota, using a precision screwdriver for instance.
When I show to children this car which I announce them « older than I am » and that switch the lights on lighthouses (those of ref. 260, of which certain parts you will have seen it, are no more original) I see in them eyes a delight owed to the object , which in spite of its details profusion presents a good dose of naivety in its first word meaning, as well to its age.
And glances of enchanted children, are maybe a more fleeting happiness but undoubtly bigger than model cars collection.
On a collector's fair I saw, at lunch time five children of a dozen years, losing their voices during five minutes, whereas I showed them how articulated Corgi-Toys and Dinky-Toys car transporters works. I even was afraid to see their jaw falling on the ground, when I turned the Unic « Boilot » and Leyland « Beaver » cranks. Spot-On Rolls-Royce has this magic in its genes too. Magic even so popular, that Spot-On brand only survived eight years from 1959 till 1967, and as its models, produced in Ulster (Northern Ireland), were (expensive) and less numerous than those of most of scaled vehicles manufacturers.